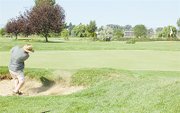 Putting the pedal to the metal Sunday, after an uneventful, 4-over-par 76 round on Saturday, the Sunnyside duo of Antonio Hidalgo and Carol Monholland pulled away from the field to capture top honors this past weekend in the Black Rock Creek Golf Course Couples Invitational.
Hidalgo and Monholland closed with a 5-under-par 67 on Sunday at the Sunnyside-area course. Their two-day, 1-under-par 143 ended up being four strokes better than the next closest pair - first-day leaders Trini Madrigal and Candice Flores.
The July 21-22 couples tourney featured a Chapman format for all 36 holes. In Chapman play both team members tee off, then each hits their partner's ball. At that point each couple must decide which ball to play, and the two golfers then alternate hitting shots until the ball is in the cup.
Madrigal and Flores, both of whom also hail from the Sunnyside area, lit up Black Rock Creek Saturday, touring the 6,286-yard track with a 3-under 69. That was one shot better than Yakima's Troy Wilmoth and Chris Scacco, the eventual third-place finishers. Madrigal and Flores grabbed the first-day lead thanks to five birdies, their only hiccups being bogeys on No. 10 and No. 16, both par-4 affairs.
Sunday, however, wasn't as smooth sailing for Madrigal and Flores. The couple, like Saturday, kept their bogeys to just two and netted three tweeters to help negate the two give-backs. The rough seas the two had trouble navigating, however, came on No. 6, where they absorbed a 10 on the par-5 hole. On No. 13, another par-5 test, the two golfers also settled for a double-bogey.
Going 41-37 for a 6-over 78 on Sunday, Madrigal and Flores finished the two-day tournament at 3-over 147, four shots back of the winners for runner-up honors.
Hidalgo and Monholland appeared out of the running after Saturday's round. They were sitting in fourth place in the 25-team field, seven shots back of the opening day leaders. Their 4-over 76 scorecard didn't have a single birdie on it, but to their credit they parred all but four of the 18 holes, and in each instance limited the damage to just a bogey.
Sunday, Hidalgo and Monholland's magic came on holes one through six. They pulled a rabbit out of the hat during that stretch, going three-under. On the short, par-4 seventh the pair stumbled and collected a bogey, but it turned out to be the only hole in which they gave a stroke back. With eight pars and three more birdies they finished at 5-under 67 on Sunday, topping off what proved to be a pretty impressive comeback for the victory.
Wilmoth and Scacco, who opened with a 2-under 70 and were sitting one shot back of the day-one leaders, never did mount a serious charge on Sunday. They eventually got into the clubhouse with a closing 6-over 78, giving the two Yakima-area golfers third-place honors (148), only one stroke out of second.
Also in the money this past weekend were the teams of Aaron Adams and Debbie Nethery, fourth place with a 150 (73-77); and Gary Pero and Susie DeShaw, fifth place with a 152 (77-75).
In the net scoring column (actual score minus handicap), the duo of Tim and Barb Fortier, who together had a handicap of 17.5, claimed top honors with a 124. Their gross (actual) rounds were 80-79.
The second through fifth place couples who earned paychecks in the net scoring column were Bob and Jessica Duda (126), Matt and Holly Wood (126), Stan and Connie Davis (127) and Paul and Patti Hart (127).