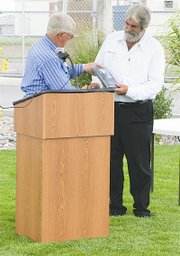 A few months ago Sunnyside residents may have wondered if JM Eagle, the Port of Sunnyside's first industrial customer, was going to stick around.
The company first came on board with the port district in 1974. It was known as Simpson Pipe at the time.
Sunnyside Port Commission President Arnold Martin at last Friday's Port of Sunnyside annual industry appreciation barbecue said, "It has had many different names since then."
He said the pipe manufacturing company has continued to provide jobs for local residents over the years, and the Port of Sunnyside wanted to honor JM Eagle for its contribution to the community.
Martin presented Plant Manager Stan Romig, also the featured speaker at the event, with an appreciation plaque that recognizes JM Eagle for being an economic leader in Sunnyside.
Romig said he was pleased his company recently decided to select the Sunnyside plant for the manufacturing of polyethylene pipe.
He was uncertain how the local plant would fare after the housing market collapsed and PVC pipe orders dried up.
"We saw all that pipe leave the yard," Romig said.
With the new polyethylene product due to be manufactured here, he said the future is bright.
"We have a five-month backlog of orders and have yet to start production," said Romig, stating the Sunnyside plant is the only manufacturer of polyethylene pipe within 1,000 miles.
The plant will, once it is online, produce pipes that range in circumference from 1/2-inch to 36-inches.
"The owners are talking about a 96-inch line in the facility," Romig said, stating no other plant in the U.S. manufactures the larger piping.
The Sunnyside plant, he told those gathered at the industry appreciation barbecue, will be capable of shipping 2.2 billion pounds of product annually, and the polyethylene products will have a 100 to 150-year lifespan with a 50-year warranty on some products.
"Whoever's buying that product is guaranteed not to have any issues in your lifetime," Romig told the crowd.
He said JM Eagle is also committed to preserving the environment and helping other countries through non-profit organizations, providing running water to many villages in Africa.
"Thank goodness, we're back in the game!" exclaimed Romig.