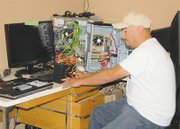 With 10 years of experience and the right connections, Roy Montelongo is the guy to turn to when in need of computer repairs or parts.
Montelongo has just opened a storefront at 317 Yakima Valley Highway and his shop has a variety of computer services for people in Sunnyside.
Montelongo's Computer Solutions offers new and used computers, computer repair, networking, computer parts and game console repair. In addition, Montelongo will be offering Page Plus cell phones soon to supplement his business.
"If you have a laptop with a broken screen, I can fix that," he said. "I can replace the drive or the keyboard."
Montelongo has been working out of his home for about six years. He had a storefront on East Edison Avenue for six months in 2008, but was driven out by high rent prices. He's happy to have a business location again.
"The building is a bit bare still," he said. "I hope to have full shelves soon."
His experience includes a stint working for Yakima Networking, time which helped him understand what customers need from a computer shop.
"I can get parts people need, and help old computers run better," said Montelongo. "People have trouble with the networked printers. I can set that up for them."
Montelongo's Computer Solutions is open Monday through Friday 9 a.m. to 6 p.m. and Saturday from 9 a.m. to 5 p.m.