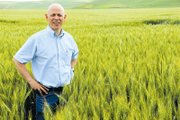 A family effort has brought Sunnysiders fresh, locally grown produce inside its city limits.
Rossy's Fresh Produce Stand opened last Wednesday on South First Street across from Bi-Mart.
The stand is open daily from 9 a.m. to 6 p.m. and is operated by Hector Dominquez, his wife Enriqueta and 16-year-old son Nayib.
Mr. Dominguez says all the produce, including onions, potatoes, corn and a variety of other fruit and vegetables, are completely locally grown.
"We pick every day," he said. "All of the produce comes from Zillah and (near) Sunnyside."
Dominguez and his crew are each day out in the fields, picking fresh fruits and vegetables for a fresh batch of local products to offer customers on a daily basis.
The family trio and crew have been hard at it during harvest season in the valley for the past three years. Dominguez says the stand offers products consistent with the harvest times.
"We are going to have pumpkins and squash in the fall," he added.
Right now the business is stocked with watermelon, corn, and many other ripe and fresh produce.
"We have all kinds of peaches," Dominguez added.
"...way too many peaches," he chuckled.
The stand will be open for business until Oct. 31.