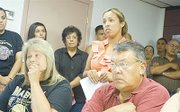 MABTON - The Mabton School District's office was overwhelmed last night with a standing-room-only crowd upset about plans next month to enforce a stricter dress code and close the campus.
About 50 people packed the meeting room for the school board's regular meeting last night, Monday.
The policies impact students at the junior/senior high school.
Superintendent Minerva Morales told the crowd that changes coming to the campus for the 2012-13 school year are enforcing policies that have already been in place.
As an example, she noted a closed campus policy has always been on the books but hasn't been enforced.
During a presentation last night, junior/senior high principal Jose Elizondo said only juniors and seniors with a B average would be allowed to leave campus for lunch.
He cited safety concerns for the change, noting students speed out of the parking lot and back so they can go to Sunnyside for lunch.
Elizondo added that the district provides free lunches and with an increased number of students eating on campus it will make more funds available to improve the district's nutrition program.
The district also has a policy on the books that gives school administrators the option to tighten the dress code if they deem there is a health or safety hazard or a disruption to the educational process.
Elizondo said discipline issues are a concern at the junior/senior high school and that a stricter dress code would eliminate issues with gang colors and students feeling inferior if their families can't afford more expensive clothes.
Athletic Director Brock Ledgerwood said research has shown that uniform dress codes can be a key to success for students in poorer school districts like Mabton's.
He said more restrictive codes are needed because students are "not focused on learning." Ledgerwood added, "They're all about trying to see what they can get away with. We're here to teach, they need to be here to learn."
During public comment, the board heard the changes won't solve gang issues in Mabton.
Johnny Gusby is a gang officer for the Sunnyside Police Department and is trained in dealing with criminal gangs. He has had children attend schools in Mabton and last night said his experience as an officer shows that restricting colors worn at school won't do away with gang problems.
"Unfortunately it will not eliminate gangs," he said. "They will find other ways (to show gang affiliation)."
The board was also peppered with questions about concerns for those families who have already purchased school clothing - or can't afford to buy clothing that will meet the new standard.
Another parent threatened to pull their children from the Mabton School District because of the changes.
Tracy Vargas is a Mabton High School student, and she said students dressing in similar clothes and colors won't eliminate bullying.
"It's not about what you wear," she said, noting students will find more personal things to pick on each other about.
As for the closed campus policy, one parent noted her child is a special needs student and likely won't be able to reach the B grade average needed to go off campus.
Concerns were also expressed about the impact to local businesses that will no longer be able to serve students during the lunch hour.
As ticked as it was about the dress code and closed campus, the crowd seemed to be as much or more upset that there wasn't more parental involvement in the process that led to the changes coming to the campus starting with this school year.
Last night's discussion about the changes was only the second public meeting on the proposals. The first was a discussion tacked on to the end of a budget study session held on July 11.
At that meeting the board heard about the proposals from junior/senior high administrators and supported the recommendations unanimously.
Changes in student handbooks are not formally decided by the school board, but it can express its sentiment on the issues.
The committee that made the recommendations did not include parents outside of district staff and board members.
"It concerns me that a committee of three made these suggestions without the parents," said Tawyna Ibarra, a junior/senior high parent. "I'm not saying these aren't good ideas, but you need parental involvement."
Vanessa Cervantes also spoke during public testimony, and said it hurt to hear about the changes from other people in the community - not from the district. Cervantes expressed regret that she tried to defend the district to the public. "I told them our school district wouldn't do something like that," she said.
Despite public opposition, the board stuck by school staff in making the changes for the coming school year.
Parents and students are invited to an informational meeting this coming Thursday, July 26, at 7 p.m. in the high school library to learn more about the changes.