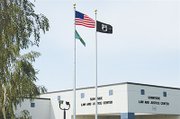 A third flag now flies daily over the Sunnyside Law and Justice Center, one that honors those Americans who are prisoners of war or missing in action.
Sunnyside Municipal Code only requires the POW/MIA flag to be flown on six specific days a year, but Sgt. Andrew Gutierrez asked for, and received, permission to fly it daily.
"There is no national code regarding its display," said Gutierrez. "But it's an honorable flag."
He said the display of the flag shows the city's support of those lost in war. It's been flying at the police station for about a month after permission was given by Interim City Manager Frank Sweet.
"We have the two flagpoles, so it wasn't a difficult thing to do," said Gutierrez. "It is flown under the United States flag but just higher than the state flag."
Sunnyside first passed a flag code on Oct. 10, 2011 and amended it to include the POW/MIA flag on Dec. 12, 2011.
The POW/MIA flag was designed in 1970 at the request of the wife of a soldier missing in action in Vietnam who was also a member of the National League of Families. The design was not trademarked or copyrighted in order to allow for wide dissemination as a reminder.
In 1990, Congress passed legislation recognizing the flag and designating it as "the symbol of our nation's concern and commitment to resolving as fully as possible the fates of Americans still prisoner, missing and unaccounted for in Southeast Asia, thus ending the uncertainty for their families and the nation."
In 1998, Congress
required that the flag be flown at federal buildings six times a year: Armed Forces Day, Memorial Day, Flag Day, Independence Day, National POW/MIA Recognition Day and Veterans Day.
As of July 12, there were 1,664 Americans still listed as missing and unaccounted-for from the Vietnam war. Since 2009, 30 service members have been accounted for by the Defense POW/MIA Office.