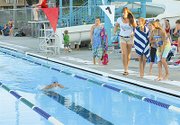 GRANDVIEW - After having the same public defender for the past five years, the city of Grandview is going to bid out the service.
Last night, Tuesday, the Grandview City Council during its regular meeting gave city attorney Quinn Plant the green light to solicit public defender bids. The action comes in the aftermath of a state Supreme Court decision last month limiting full-time attorneys to no more than 400 cases a year.
Plant noted the city's former public defender, Michael Everett, was handling 420 to 450 cases per year at a cost of about $50,000.
With two attorneys now apparently needed, Plant requested informal proposals from Everett and other attorneys about the cost for public defense services. Plant said the responses ranged from $48,000 to $132,000.
Given the wide range, Plant recommended - and council agreed - soliciting formal bids for defense services.
In response to a question by Councilman Mike Bren, Plant said it may be possible for the city to tweak its court system and get the number of cases at or under 400 per year since the average total is so close to that figure. If that happens then Grandview would again need just one public defender.
Plant said the downside to going out for a formal bid process is that the city of Grandview will miss the Aug. 1 deadline for a state grant program for indigent defense services.
"However, there is no guarantee the city would actually obtain grant funds, or that these funds would offset potential cost savings by formally going out to bid," Plant noted in his comments to council.