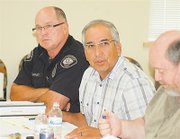 GRANDVIEW - The end of an era is fast approaching in Grandview, where the city administrator, police chief and assistant chief will all retire by the end of 2014.
The news was announced yesterday, Tuesday, during a four-hour Grandview City Council retreat at the city's library.
"Within two years we're going to lose more than 100 years of experience. I don't like that," said Councilman Jesse Palacios.
Assistant Police Chief Mark Ware is the first of the three longtime employees to ride off into the sunset, announcing plans to retire on Jan. 31, 2013.
"I don't know if I'll miss the work, but I'll definitely miss the people," Ware smiled.
During a break in yesterday's marathon meeting, Ware said he decided to retire about six months from now because Police Chief Dave Charvet is retiring on Jan. 31, 2014.
This way, he explains, there will be a year for the new assistant to transition into the post before Charvet steps down and a new chief heads the police department.
In something of a domino effect, the two retirements played a part in City Administrator Cus Arteaga's decision to retire at the end of 2014 so that his successor can have input into the two key police hires.
He's proposing the city hire an assistant city administrator who will take over the top post when he retires.
Arteaga has worked nearly 40 years for the city and had pondered retirement. "It's been a challenging but very rewarding career," he said.
The Charvet and Ware announcements helped guide his timeline, he said.
Perhaps as soon as two weeks from now council may consider creating the assistant city administrator position and post the opening.
That sense of urgency was also conveyed by Mayor Norm Childress, who suggested council will need to begin soon on the transition process. "We can't wait a year. We have to get on it," he told council.
Not only will the city need to fill key administrative posts, but it will have to budget additional funds for the soon-to-be retirees' health care and pension costs.
Arteaga, who owns a farm, said he loves the work and loves the city. It's just time to "pass the baton," he said.
As also the city's public works director, Arteaga said he's hopeful the next two years can be a time to prepare his public works assistant, Santos Trevino, to take over the top spot in that department.
The transition plans are subject to city council approval, but it's hard to know how long council members, themselves, will be around.
"I'm three years from retiring and I may not run for re-election," Mayor Pro Tem Pam Horner said during the retirement discussion.
Same goes for Childress, a fixture at city hall for two decades.
"I've got a bucket list, too, and I don't know how long I'll be around," he said.
Job announcements for the three impending vacancies will be posted in Yakima Valley communities and internally at city hall.
"The city believes in promoting from within," Arteaga said. "That's how I got to where I am."