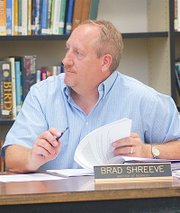 GRANDVIEW - A Pasco based dairy producer will now be providing milk to Grandview students, at least for the next year.
Grandview School Board directors voted to accept the bid from Terry's Dairy Inc., in lieu of Darigold, who had been the district's previous provider.
The switch happened at Monday night's school board meeting, when directors reviewed bids from the two companies.
Both bids included pricing for a total of 671,500 pouches of milk, with 50 percent being white milk, 40 percent chocolate milk and 10 percent strawberry milk.
The total from Terry's Dairy came in at a total cost of $125,174 for the school year. Darigold's bid came in more than that, at $126,436.
Directors chose to go with the new company, to try it out for at least a year.
Also this past Monday evening the board chose R.H. Smith Distributing, the local Conoco distributor, to supply the district's fuel.
Conoco came in as the lowest bidder ahead of Bleyhl Farm Service.
The district's business director, Brad Shreeve, said the bids for both the dairy and fuel suppliers are renewable for a following two years, if the board so wishes to continue service with these companies.