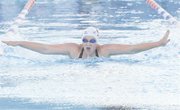 GRANDVIEW - The Grandview Neptunes' victory dance over Naches (402-271) this past Tuesday evening didn't last long after the team returned home to host the Selah Dolphins.
Last night (Wednesday) the team suffered a blowout loss against the Selah swim team (566.5-265.5).
There were, however, a few bright spots for Grandview swimmers, including Brianna Desmarais, who notched first place honors in the girls 40-yard 10&U 'fly (30.91), freestyle (25.47) and the 160-yard individual medley (2:54.74). Desmarais also contributed to the first place finishers in the girls 10&U, 160-yard medley relay (2:37.35), along with teammates Emma Febus, Kaitlyn Ott and Jordan Colson. The foursome also reached the end of the pool first in the 160-yard freestyle relay in 2:22.04.
Also earning several first and second place finishes was Grandview's Brendon Lynch-McGhan. This boys 16&U swimmer tagged the end of the pool first in the 40-yard backstroke race (29.60) and 40-yard breaststroke (26.43). Lynch-McGhan also tagged the end of the pool for second place honors in the 40-yard 'fly (25.94), the 40-yard freestyle (22.93) and the 160-yard IM (2:33.59).
Other Grandview swimmers also had a strong showing of first place finishes during the 160-yard IM. Neptunes tagging the end of the pool first included Angel Morales (3:03.34) in the 10&U boys race, Nathaniel Gutierrez (2:36.58) swimming for the 12&U boys, Samanta Castaneda (2:21.56) in the girls 18&U girls competition and Dominic Garza (2:19.78) in the boys 18&U race.
The Grandview Neptunes (3-9) will next compete this coming Friday through Sunday in Naches at the league championship meet.
SELAH 566.5
GRANDVIEW 265.5
160-YARD MEDLEY RELAY
Girls 10&U
1st-Grandview (Emma Febus, Brianna Desmarais, Kaitlyn Ott, Jordan Colson) 2:37.35
Boys 10&U
1st-Selah (Adam Escamilla, Jesse Haines, Cooper Vick, Eli Ziegler) 2:40.88
Girls 12&U
1st-Selah (Lauran Alderman, Jesse Rees, Ketra Pope, Maya Ozanich) 2:16.11
Boys 12&U
1st-Selah (Daniel Callahan, Alex Johnson, Duncan Williamson, Scott Wiley) 2:24.44
Girls 14&U
1st-Selah (Maggie Rees, Elyse Kuebler, Erin Herzog, Melanie Garza) 1:54.74
Boys 14&U
1st-Selah (Ryan Leischner, Nolan Frampton, Jeffrey Bayle, Ivan Lancaster) 1:44.16
Girls 18&U
1st-Selah (Aricka Smith, Brittany Borchert, Rachel Krawczyk, Georgi Hansen) 1:55.16
Boys 18&U
1st-Selah (Breyden Newland, Bryce Newland, Jamyn Carter, Ian Kuebler) 1:45.48
40-YARD BUTTERFLY
Girls 8&U
1st- Trista Hull (S) 30.48, 2nd-Grace Ziegler (S) 42.14, 3rd-Isabella Vick (S) 42.41, 4th-Robin Willey (S) 42.65
Boys 8&U
1st-Jack Kuhn (S) 44.04, 2nd-Reilly Cavanaugh (S) 47.32, 3rd-Damian Smasne (G) 52.31, 4th- Joaquin Cortez (G) 56.54
Girls 10&U
1st-Brianna Desmarais (G) 30.91, 2nd-Elle Lancaster (S) 32.23, 3rd-Lily Lancaster (S) 36.37, 4th-Jordan Colson (G) 42.41
Boys 10&U
1st-Eli Ziegler (S) 38.68, 2nd-Nicolas Cortez (G) 38.87, 3rd-Jesse Haines (S) 40.20, 4th-Angel Morales (G) 43.03
Girls 12&U
1st-Jesse Rees (S) 28.81, 2nd-Lauren Alderman (S) 31.75, 3rd-Maxine Ocampo (G) 32.75, 4th-Annabelle Padgham (G) 32.92
Boys 12&U
1st-Carson Vick (S) 27.48, 2nd- Jacob Frampton (S) 28.54, 3rd-Nathaniel Gutierrez (G) 30.86, 4th-Daniel Callahan (S) 34.00
Girls 14&U
1st-Erin Herzog (S) 26.57, 2nd-Elyse Kuebler (S) 27.63, 3rd-Melanie Garza (S) 28.34, 4th-Taylor Ebbelaar (G) 28.80
Boys 14&U
1st-Nolan Frampton (S) 22.48, 2nd-Ivan Lancaster (S) 23.98, 3rd-Micah Binfet (G)24.37, 4th-David Wacenske (G) 24.66
Girls 16&U
1st-Brittany Borchert (S) 27.31, 2nd-Rachel Krawczyk (S) 30.75, 3rd-Joselina Wacenske (G) 31.29, 4th-Mikel Perez (S) 31.98
Boys 16&U
1st-Ian Kuebler (S) 25.85, 2nd-Brendon Lynch-McGhan (G) 25.94, 3rd-Dameon Garza (G) 29.34, 4th-Jamyn Carter (S) 34.43
Girls 18&U
1st-Aricka Smith (S) 24.87, 2nd-Samanta Castaneda (G) 25.85, 3rd-Tawyna Francis (G) 26.87, 4th-Jessica Morales (G) 27.61
Boys 18&U
1st-Bryce Newland (S) 21.18, 2nd-Fabian Ruiz (G) 21.81, 3rd-Jared Churchill (G) 22.38, 4th-Dominic Garza (G) 23.22
40-YARD BREASTSTROKE
Girls 8&U
1st-Trista Hull (S) 34.83, 2nd-Laile Lancaster (S) 47.61, 3rd-Katie Ramos (S) 52.16, 4th-Grace Ziegler (S) 54.33
Boys 8&U
1st-Rielly Cavanaugh (S) 47.89, 2nd-Nathan Oliphant (S) 52.90, 3rd-Kylan Haines (S) 52.23, 4th-Michal Ozanich (S) 54.19
Girls 10&U
1st-Elle Lancaster (S) 35.55, 2nd-Kaylea Hartman (S) 38.9, 3rd-Brianna Desmarais (G) 39.09, 4th-Jordan Colson (G) 42.10
Boys 10&U
1st-Nicolas Cortez (G) 35.43, 2nd-Jesse Haines (S) 42.55, 3rd-Angel Morales (G) 43.06, 4th- Jack Ubelaker (S) 43.46
Girls 12&U
1st-Kylie Colson (G) 33.80, 2nd-Jesse Rees (S) 34.73, 3rd-Maxine Ocampo (G) 35.00, 4th-Annabelle Padgham (G) 35.92
Boys 12&U
1st-Carson Vick (S) 31.38, 2nd-Jacob Frampton (S) 32.06, 3rd-Daniel Callahan (S) 35.56, 4th-Duncan Williamson (S) 38.00
Girls 14&U
1st-Elyse Kuebler (S) 32.24, 2nd-Erin Herzog (S) 32.90, 3rd-Viannei Perez (G) 33.71, 4th-Taylor Ebbelaar (G) 34.03
Boys 14&U
1st-Micah Binfet (G) 26.43, 2nd-Ivan Lancaster (S) 26.92, 3rd-Tavian Valenzuela (G) 28.77, 4th- Ryan Leischner (S) 31.51
Girls 16&U
1st-Brittany Borchert (S) 29.53, 2nd-Rachel Krawczyk (S) 31.56, 3rd-Joselina Wacenske (G) 35.56, 4th-Taylor Colson (G) 38.70
Boys 16&U
1st-Brendon Lynch-McGhan (G) 29.90, 2nd-Ian Kuebler (S) 30.65, 3rd-Dameon Garza (G) 33.75, 4th-Jamyn Garter (S) 37.89
Girls 18&U
1st-Tawnya Francis (G) 30.79, 2nd-Aricka Smith (S) 31.19, 3rd-Jessica Morales (G) 31.81, 4th-Georgi Hansen (S) 33.41
Boys 18&U
1st-Bryce Newland (S) 25.32, 2nd- (tie) Breyden Newland (S) 2953, Dominic Garza (G) 29.53, 4th-Fabian Ruiz (G) 29.71
40-YARD BACKSTROKE
Girls 8&U
1st-Trista Hull (S) 32.90, 2nd-Isabella Vick (S)42.31, 3rd-Grace Ziegler (G) 28.77, 4th-Ryan Leischner (S) 31.51
Boys 8&U
1st-Jack Kuhn (S) 45.90, 2nd-Damian Smasne (G) 51.36, 3rd-Bryce Howard (S) 54.43, 4th-Reilly Cavanaugh (S) 55.05
Girls 10&U
1st-(tie) Elle Lancaster (S) 33.02, Lily Lancaster (S) 33.02, 3rd-Brianna Desmarais (G) 35.69, 4th-Tanna Bond (S) 39.11
Boys 10&U
1st-Jesse Haines (S) 36.81, 2nd-Eli Ziegler (S) 38.11, 3rd-Reece Ozanich (S) 38.27, 4th-Cooper Vick (S) 40.27
Girls 12&U
1st-Lauren Alderman (S) 33.31, 2nd-Jeese Rees (S) 33.51, 3rd-Bridgette Bond (S) 35.27, 4th-Kaylin Cortez (G) 36.47
Boys 12&U
1st-Carson Vick (S) 28.64, 2nd-Jacob Frampton (S) 29.00, 3rd-Will Richardson (S) 33.64, 4th-Nathaniel Gutierrez (G) 34.59
Girls 14&U
1st-Melanie Garza (S) 27.42, 2nd-Elyse Kuebler (S) 30.456, 3rd-Taylor Ebbelaar (G) 30.70, 4th-Tori Skelton (S) 31.42
Boys 14&U
1st-Nolan Frampton (S) 23.86, 2nd-Ivan Lancaster (S) 26.39, 3rd-Ryan Leischner (S) 27.92, 4th-Micah Binfet (G) 29.56
Girls 16&U
1st-Rachel Krawczyk (S) 32.09, 2nd-Brittany Borchert (S) 32.24, 3rd-Taylor Colson (G) 36.92, 4th-Mikel Perez (S) 37.00
Boys 16&U
1st-Brendon Lynch-McGhan (G) 29.60, 2nd-Ian Kuebler (S) 29.83, 3rd-Jamyn Carter (S) 30.05, 4th-Dameon Garza (G) 37.45
Girls 18&U
1st-Aricka Smith (S) 26.41, 2nd- Samanta Castaneda 30.06, 3rd-Jessica Morales (G) 31.59, 4th-Tawnya Francis (G) 32.25
Boys 18&U
1st-Bryce Newland (S) 23.77, 2nd-Dominic Garza (G) 27.29, 3rd-Fabian Ruiz (G) 28.67, 4th-Breyden Newland (S) 30.07
40-YARD FREESTYLE
Girls 8&U
1st-Trista Hull (S) 2741, 2nd-Isabella Vick (S) 34.62, 3rd-Grace Ziegler (S) 36.01, 4th-Katie Ramos (S) 36.56
Boys 8&U
1st-Jack Kuhn (S) 35.12, 2nd-Dylan Haines (S) 39.32, 3rd-Reilly Cavanaugh (S) 41.84, 4th-Joaquin Cortez (G) 44.96
Girls 10&U
1st-Brianna Desmarais (G) 25.47, 2nd-Lily Lancaster (S) 27.78, 3rd-Elle Lancaster (S) 28.17, 4th-Jordan Colson (G) 32.10
Boys 10&U
1st-Jesse Haines (S) 24.21, 2nd-Angel Morales (G) 28.78, 3rd-Eli Ziegler (S) 31.44, 4th-Nicolas Cortez (G) 32.03
Girls 12&U
1st-Jesse Rees (S) 26.48, 2nd-Kylie Colson (G) 27.19, 3rd-Lauren Alderman (S) 27.91, 4th-Lauren Binfet (G) 29.20
Boys 12&U
1st-Carson Vick (S) 23.38, 2nd-Adrian Escamilla (S) 24.57, 3rd-Jacob Frampton (S) 24.88, 4th-Nathaniel Gutierrez (G) 27.59
Girls 14&U
1st-Melanie Garza (S) 22.42, 2nd-Taylor Ebbelaar (G) 24.17, 3rd-Elyse Kuebler (S) 24.88, 4th-Tori Skelton (S) 25.72
Boys 14&U
1st-Nolan Frampton (S) 19.87, 2nd-Tavian Valenzuela (G) 22.28, 3rd-Ivan Lancaster (S) 22.44, 4th-Micah Binfet (G) 22.90
Girls 16&U
1st-Brittany Borchert (S) 24.36, 2nd-Rachel Krawczyk (S) 24.77, 3rd-JOselina Wacenske (G) 28.33, 4th-Mikel Perez
Boys 16&U
1st-Ian Kuebler (S) 22.05, 2nd-Brendon Lynch-McGhan (G) 22.93, 3rd-Dameon Garza (G) 23.39, Jamyn Carter (S) 253.33
Girls 18&U
1st-Aricka Smith (S0 22.94, 2nd-Samanta Castaneda (G) 24.00, 3rd-Tawnya Francis (G) 25.69, 4th- Jessica Morales (G) 25.82
Boys 18&U
1st-Bryce Newland (S) 18.93, 2nd-Fabian Ruiz (G) 19.09, 3rd-Dominic Garza (G) 21.73, 4th-Breyden Newland (S) 23.67
160-YARD FREESTYLE RELAY
Girls 10&U
1st-Grandview (Brianna Desmarais, Kaitlyn Ott, Jordan Colson, Emma Febus) 2:22.04
Boys 10&U
1st-Selah (Eli Ziegler, Cooper Vick, Adam Escamilla, Jesse Rees) 2:10.96
Girls 12&U
1st-Grandview (Kaylin Cortez, Maxine Ocampo, Lauren Binfet, Kylie Colson) 1:59.71
Boys 12&U
1st-Selah (John Herzog, Will Richardson, Jacob Frampton, Carson Vick) 1:46.83
Girls 14&U
1st-Selah (Melanie Garza, Tori Skelton, Maggie Rees, Elyse Kuebler) 1:42.94
Boys 14&U
1st-Selah (Ivan Lancaster, Ryan Leischner, Jeffrey Bayle, Nolan Frampton) 1:34.67
Girls 18&U
1st-Selah (Rachel Krawczyk, Brittany Borchert, Aricka Smith, Mikel Perez) 1:41.89
Boys 18&U
1st-Selah (Breyden Newland, Jamyn Carter, Ian Kuebler, Bryce Newland) 1:31.22
160-YARD INDIVIDUAL MEDLEY
Girls 10&U
1st-Brianna Desmarais (G) 2:54.74, 2nd-Jordan Colson (G) 3:06.88, 3rd-McKenna Swindell (S) 3:28,67, 4th-Sierra Ibarra (G) 3:41.57
Boys 10&U
1st-Angel Morales, (G) 3:03.34, 2nd-Nicolas Cortez (G) 3:04.84, 3rd-Cooper Vick (S) 3:11.14, 4th-Adam Escamilla
Girls 12&U
1st-Jesse Rees (S) 2:35.79, 2nd-Lauren Alderman (S) 2:43.38, 3rd-Kylie Colson (G) 2:46.75, 4th-Kaylin Cortez (G) 2:55.67
Boys 12&U
1st-Nathaniel Gutierrez (G) 2:36.58, 2nd-Scott Willey (S) 2:54.74, 3rd-Adrian Escamilla (S) 2:56.08, 4th-Alex Johnson (S) 3:02.74
Girls 14&U
1st-Tori Skelton (S) 2:21.42, 2nd-Elyse Kuebler (S) 2:22.03, 3rd-Taylor Ebbelaar (G) 2:22.18, 4th-Maggie Rees (S) 2:28.20
Boys 14&U
1st-Nolan Frampton (S) 1:54.94, 2nd-Ivan Lancaster (S) 2:09.18, 3rd-Micah Binfet (G) 2:15.69, 4th-Ryan Leischner (S) 2:17.61
Girls 16&U
1st-Brittany Borchert (S) 2:25.76, 2nd-Joselina Wacenske (G) 2:48.34, 3rd-Mikel Perez (S) 2:54.15
Boys 16&U
1st-Ian Kuebler (S) 2:18,81, 2nd-Brendon Lynch-McGhan (G) 2:23.59, 3rd-Dameon Garza (G) 2:34.24, 4th-Jamyn Carter (S) 3:00.62
Girls 18&U
1st-Samanta Castaneda (G) 2:21.56, 2nd-Jessica Morales (G) 2:22.96, 3rd-Tawyna Francis (G) 2:28.84, 4th-Ashlyn Sehnert (G) 2:41.71
Boys 18&U
1st-Dominic Garza (G) 2:19.78, 2nd-Gabian Ruiz (G) 2:25.43, 3rd-Eric Escobar (G) 2:26.80