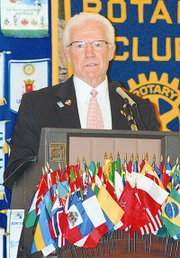 The Sunnyside Noon Rotary Club sang the Canadian national anthem on Monday to welcome Rotary district governor Doug Everett as he starts a tour of the Rotary clubs in District 5060, which encompasses Central Washington state and the south central portion of British Columbia, Canada.
Everett hails from Blind Bay in British Columbia and took office as the district governor at the beginning of July.
Everett was an educator in professional life, starting as a high school teacher and becoming a principal in 1998.
His theme as district governor is "The Power of Partnerships" and his goals for the district include forming more partnerships with other organizations to multiply the effect of the groups' efforts.
Everett noted that Rotary already works with other organizations and the club's big push to eliminate polio would not be as successful as it has been without the World Health Organization, the Bill and Melinda Gates Foundation, UNICEF and various local governments.
"Because of those partnerships, the rate of polio has dropped by 99 percent," he said. "And five million children have been saved from paralysis."
Everett said Rotary International announced two new partnerships earlier this year that will help local clubs in service efforts. The Global FoodBanking Network and Youth Service America both are available for projects by local clubs.
In addition to his own message of partnerships, Everett spoke about Rotary International President Sakuji Tanaka's vision of "Peace through Service." Everett said the phrase may mean different things to different people, and all interpretations are correct.
Everett also spoke about keeping local clubs alive by focusing on growth and goals instead of dwelling on the past.
"Clubs are dying when new members do not pitch in," he said. "Each club must focus on the next success. In a changing world, a fixed mindset can bring growth to a halt."
Two initiatives of Rotary International also merited mention by the district governor.
Rotary Showcase is an on-line effort to allow local clubs to share their projects more effectively. The initiative includes tracking data and the ability to share with a number of social networks.
The other initiative is the Rotaract Club, a partner organization with local Rotary clubs available for youth ages 18-30. Rotaract has been around for awhile, but it has been experiencing massive growth in recent years.