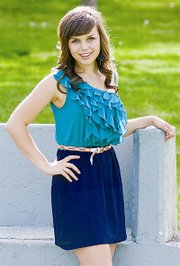 Madison "Madi" Marquez has been dreaming of her junior year of high school since she was a pre-school student at Sunnyside's United Methodist Pre-school.
The reason...she declared at that age she was going to compete to become Miss Sunnyside.
That year has finally arrived and Marquez is making good on the promise she made to "Miss Mary" Schlenker.
"That year the court visited our pre-school and I knew what I wanted to do," Marquez said of her future goal.
The teen has worked toward that goal since, keeping busy in athletics and other community activities. She said she has set her sights on the Miss Sunnyside title so that she might be able to educate youngsters about people with disabilities.
For her community service project, Marquez would like to partner with Sunnyside Community Hospital to develop a "Kids on the Block" program locally.
She said Children's Village has such a program, but there isn't such a program in Sunnyside.
The program, said the Miss Sunnyside hopeful, involves the use of puppets to help youngsters understand those with disabilities better.
"Sometimes children can be judgmental of those who are different from them, other times they might be afraid to approach someone with a disability...however, anyone can become disabled as a result of various consequences. Some people are born with disabilities and it is important for children to understand them," said Marquez.
She said children will be better able to relate to those who have disabilities if they understand those disabilities.
As a member of the Sunnyside High School leadership class, Marquez has spent time with students in Sunnyside schools. She has interacted with children with disabilities and said they lead inspiring lives.
"They challenged me to learn more and to reach beyond my world," said Marquez, who is interested in the world around her and wants to share it with others.
She said, given the opportunity to share with others the community of Sunnyside, she would escort them to the recently unveiled Bonnie Dunbar bronze statues.
"I would like to share with others that the size of the community one comes from doesn't limit the individual...you can achieve great things if you are willing to work hard to reach your goals," said Marquez.
She said the Sunnyside Museum is another point of interest in the community because of its volunteers and the educational opportunities available there.
"The volunteers make a visit enjoyable," said Marquez, stating she doesn't like history much. However, a visit to the museum can be fun and interesting because of the knowledgeable and dedicated individuals who are there to share Sunnyside's history, as well as the history of the Lower Yakima Valley.
Conquistador would be the final destination on a tour provided by Marquez.
She said she likes the eatery for the food, the staff and the atmosphere.
"We've had many family gatherings at Conquistador," said Marquez, stating a meal at the restaurant provides patrons with a cultural experience that is indicative of Sunnyside and the people living here.
Marquez may be accomplishing the goal of competing for the 2012-13 Miss Sunnyside title, but she has other long-term goals, as well.
She would like to earn a medical degree, specializing in pediatric medicine.
"I love kids, want to help build relationships and feel I can be part of a positive outcome in their lives," said Marquez.
She is the daughter of Scott and Tonya Marquez, and her sponsor for the Miss Sunnyside Pageant is Argus Insurance.
Marquez is one of 13 young hopefuls vying for the Miss Sunnyside title. The Miss Sunnyside Pageant will be staged on Saturday, Sept. 15, at the Sunnyside High School auditorium.