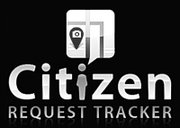 Citizen Request Tracker is an app now available on the city of Sunnyside's website and, though it sounds 1984ish, the app is actually a free and useful tool for the public.
I stumbled on the tracker when I found an app page on the city website, www.ci.sunnyside.wa.us.
Initially I thought it was something about keeping track of citizens, but soon saw it is basically a quick and easy way for the public to notify city hall about issues - whether it be pot holes or a dog on the loose.
It works something like this:
You're out and about and see something amiss in Sunnyside or you want to pat the city on the back for something positive.
Instead of calling city hall and possibly going to voice mail, you can submit a brief report right on the spot via the Citizen Request Tracker Facebook app. It also allows you to submit a photo with your request.
I tested it and the response was impressive.
A confirmation e-mail was delivered right away and the next morning I had an e-mail from City Clerk Delilah Saenz about the message I sent.
This app, which was added to the city website about six months ago, is also handy because it tracks all of your requests. It essentially compiles a library of your requests.
All of the requests are delivered to Saenz, who then makes sure they get to the appropriate department to respond to the issue.
Besides Facebook, the app can be used on all Apple platforms.
The only downside is that sending off a request requires the user to be on-line. That means you'll have to wait until you get home or back to the office to file a request if you don't have a smart phone or tablet.
Even so, it's still a nice, streamlined way to make your voice heard without possibly having to wait in line or be put on hold.
The app is provided by Kansas-based CivicPlus, which also handles the city's website development.
You can download it from Sunnyside's website (click the "apps download" button at lower right on the city's home page), the iTunes store or on Facebook.
After you've downloaded the app, you'll have to list which city you're making the request to - Sunnyside is the only Lower Valley city to use the Citizen Request Tracker - and provide a physical address for the issue at hand.
The app will further ask you to indicate the type of request you are making to help route it to the appropriate city department.
You'll also need to provide contact information so city staff can follow up with you about the request.
As you can see, there's a bit of typing to get started.
After that, though, you're on track - hopefully the fast track - to make your request known at city hall.