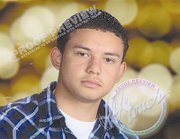 GRANGER - Teresa Padilla of Granger is distraught over the disappearance of her 16-year-old son, Angel.
She said he was last seen Sunday, July 22, at 1 p.m. and she hasn't heard from him since then.
"I don't know where he went," Padilla said via an interpreter.
She said she has spoken with friends of the teen and only one indicated the younger Padilla may have gone to Yakima.
However, the mother doesn't know for certain where Angel has been for nearly a week and is hoping the public can help her find him.
She said the disappearance is not normal behavior for the 16-year-old.
Padilla said Angel hasn't been known to get into trouble and she has no knowledge of him having any enemies.
Angel was seen leaving the Padilla home wearing a gray top and tan shorts. He also had on red low-top Converse sneakers.
He is approximately 5'7" tall, has brown hair and brown eyes.
Anyone with information regarding his whereabouts is urged to contact the Yakima County Sheriff's Office at 509-574-2636.
"My main wish is for Angel's prompt return home," said Padilla.