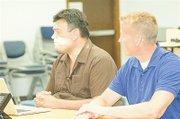 Along with the new construction at Sunnyside High School may come new parking enforcement rules.
A proposal for new parking lot restrictions was brought to the school board for consideration this past Thursday evening.
New SHS Principal Ryan Maxwell and Assistant Principal Wally Shearer told board directors of the issues regarding student parking on campus. They said some unlicensed and uninsured students drive on campus, preventing those students who have been through the protocols from having a place to park.
The new administration team at the high school is proposing a parking lot plan that would begin with the new school year, Sept. 4, with issuing parking passes, along with new enforcement plans in place.
The proposal states permits would be issued on campus and would allow students and staff a certain parking stall to call their own.
Students would be able to obtain a permit by providing a valid driver's license, record of current insurance and the vehicle information.
Seniors at SHS would have a designated area for parking. In addition, Shearer says students who earn student of the month awards or the drawings for a month of perfect attendance will also be rewarded with special parking spots.
SHS administrators also plan to beef up enforcement for those who violate the rules. The first offense would result in a warning ticket. A second offense would earn the student a violation ticket, requiring parent contact. The third offense however, would result in the vehicle having a parking boot attached, and would stay affixed until the student's parent comes to talk to administrators. Additional violations of the rules in the parking lot would result in the parking boot placed on the car until the student or parent pays a cash fine.
Some school board members were concerned about the fines, and about registering cars at the school.
School board director Michelle Perry asked Shearer whether or not they had an alternative to a cash fine, for those who could not afford it.
"Even a $5 fine could be too much," she said.
Board chairman Miguel Puente also asked Shearer whether or not they've considered the families with more than one vehicle. Sometimes students may be driving a different vehicle than the one registered at the school.
Schools Superintendent Rick Cole asked Shearer and Maxwell to revise the plan with the board directors' suggestions in mind, and return with a proposal that the board can adopt at its August meeting.