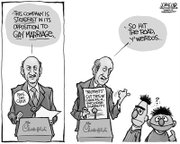 Kermit the Frog and Miss Piggy were the mainstays of my childhood and will forever have a special spot in my heart.
But after last week's announcement that the Jim Henson Company is severing ties with Chick-Fil-A because of the fast-food chain's stance on gay marriage, I'm a bit disappointed.
The Jim Henson Company apparently had done business with the fast food restaurant by providing them with toys for kid's meals.
I've never thought any company should make a political stance. What about Chick-Fil-A's homosexual employees? Will they be forced to stay closeted, or lose their jobs?
What about the Muppet's stance?
I wonder if that'll cause a riff in their viewership, or how their business fares.
According to Reuters, Chick-Fil-A CEO Dan Cathy told the Baptist Press in a recent interview that the restaurant company supported the "traditional family," and "the biblical definition of the family unit."
While it's all good and well to have personal beliefs, I don't believe every employee of the company agrees with the stance. Likewise, I'm sure not every employee of the Jim Henson Company agrees with their reprisal either.
Don't get me wrong, I love that in our country you can say what you believe in, and not be punished by death.
But in some cases, I still feel it's inappropriate for most businesses to take a political stance like that, especially when they are speaking on behalf of the entire company.
I think personal and especially religious beliefs should be separated from business affairs.
I'm all for open-mindedness, and letting others live their lives the way they want, but regardless of where my personal opinions land in this matter, I can't help but now think of where I'll eat.
On both ends of the spectrum, it's a poor business move. I do feel, however, that the Jim Henson Company was forced into the decision by the fast food company's CEO making a public declaration of religious beliefs.
Regardless, Chick-Fil-A will have to deal with the consequences of its own decisions, but as far as I'm concerned, Miss Piggy and the gang will always have that special place in my heart.