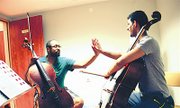 Bruce Walker, director of orchestral studies in the Sunnyside School District, is happy to be back in the United States after a trip to Kurdistan in northern Iraq, but he also wishes he had more time with the music students there.
"I'm always crestfallen when it's time to leave," he said. "I think, just one more day, just 10 more days, just another couple of weeks."
Walker returned last week from his second trip to Iraq, where he spent his time teaching students how to play the cello and working as a conductor for a concert ensemble as part of the YES Academy.
On this trip, he also was able to visit Baghdad and took a trip into the red zone. He traveled to Sadr City, one of the most dangerous places in Iraq, to visit an orphanage.
"It was one of the most amazing things I've seen in my life," Walker said of the trip.
"We were in armored suburbans that used special driving tactics to deter attacks and avoid bombs," he said. "The convoy we were in would block traffic, speed up and slow down at random and send a single car down a tunnel to check it before the rest went through."
He also had to gear up, wearing PPE, which stands for personal protective equipment.
"We had bulletproof vests on, helmets, the whole outfit," he said. "In northern Iraq we could just walk around in the open. It was very different in Baghdad."
The orphanage was another eye-opener for Walker.
"I was able to interact with the kids," he said. "It was one of the most powerful things in my life. They were learning to dance to hip-hop and I was taking pictures. They were just kids."
He said that music brought him closer to the children and acted as a bridge between the cultures.
"It doesn't matter where you're from," Walker said. "If you are willing to learn, I'm willing to teach."
The visit to the orphanage stood out for him, but he also got a lot of time teaching music. The groups he taught performed concerts and he played as well, some of the pieces he recently performed in a Sunnyside concert.
"It was a great experience," he said.
Despite a history of violence and enmity, he said Arabs and Kurds got along well in the academy, learning music side-by-side.
"It's a true testament that shows the next generation wants the best for their lives and their families," he said. "Hatred just throws up barriers to getting that."