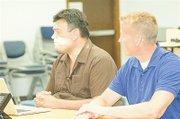 Two women and a man from Sea-Tac are all in police custody after allegedly attempting to cash counterfeit Walmart Distribution payroll checks at Hiway Fruit in Sunnyside.
Yesterday (Thursday) Sunnyside police responded to a report of two adult females attempting to cash the checks, which were believed to be counterfeit.
The females, said police, fled the store in a green Acura, but officers were able to locate the suspect vehicle and conducted a traffic stop.
An adult male was identified as the driver and the females were detained for a forgery investigation.
Police say further investigation revealed the suspects had already cashed counterfeit checks at Sunnyside's Fiesta Foods and were attempting to cash a third check before they were detained.
The suspects, said police, were believed to be targeting the Yakima and Benton county areas.
All three suspects are being held at the Sunnyside Jail and are facing charges of forgery.
Anyone believing they may have received a counterfeit Walmart Distribution Center check or who may have further information is urged to call the Sunnyside Police Department at 836-6200.
In other Sunnyside police news, officers have since yesterday investigated one report of shoplifters at Walmart, two automatic alarm calls, two animal complaints, a civil problem, two reports of disorderly behavior, a domestic violence call, a fight, two juvenile problems, a missing person report, a parking problem, two suspicious activity calls, seven traffic stops, a traffic mishap, a trespassing report and a vandalism report.
Officers also attempted to located an individual wanted by authorities, served an arrest warrant, provided three citizens with assistance and a welfare check, and fielded a found property report and two informational calls.