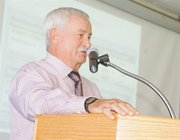 A devastating amount of rain and hail poured through the Sunnyside area earlier this month, leaving many to foot the bill for damage done to their property.
What was more devastating to this agriculturally minded community, however, was the damage done to local crops.
Sunnyside farmer Rick Herndon, who grows Concord grapes, wheat, silage corn and alfalfa hay just a few miles north of Sunnyside, says there was significant damage done to his crops, along with his neighbors.
Officially, the Herndon farm was insured for fire and hail damage done to their wheat crop. Herndon says their insurance adjuster says their wheat crop sustained a 31 percent loss.
"It was looking like it was going to be a good year for farmers, too," Herndon said.
In addition to the damage done to his crops, including grapes that were pelted to the ground bruised and broken open, shredded leaves on corn plants and fresh-cut hay beaten down with hail and rain, Herndon says the irrigation water was also affected.
According to the local farmer, the large amounts of rain caused flood waters to carry its dirt and other particles into the irrigation water supply, and more than a week and a half later farmers are still trying to get irrigation waters cleaned up enough to be able to water their crops.
But the sad truth is farmers and ranchers throughout the nation are dealing with this same issue.
The good news is, however, Yakima County farmers who suffered weather-related losses may be eligible to receive federal assistance.
The United States Department of Agriculture Farm Service Agency makes emergency loans available, and individuals who have suffered at least a 30 percent loss in crop production may be eligible for emergency loans.
USDA Secretary of Agriculture Tom Vilsack has also recently used his authority to flex program rules to provide relief and reducing the annual interest rate on emergency loans to 2.25 percent.
Agricultural producers can borrow up to $500,000, and the loan is based on the repayment ability of the applicant, not to exceed 20 years for production losses or 40 years for losses to real estate.
The USDA released a statement indicating producers who suffered damage from recent thunderstorms may qualify for benefits under the Emergency Conservation Program, which can provide up to 75 percent of the cost to restore cropland damaged by runoff water. The agency may also provide partial funding to restore conservation practices damaged by flooding. Producers are urged to consult with the Farm Service Agency prior to beginning restoration.
Farm Service Agency acting county executive director Lisa Ruff says Emergency Conservation Program funds are limited.
"Applications should be submitted as soon as possible," she said.
Ruff also is reminding farmers and ranchers to report weather-related damage to the U.S. Department of Agriculture Farm Service Agency as soon as possible.
For more information, or to report damages, contact Ruff at (509) 454-5746, extension 2.