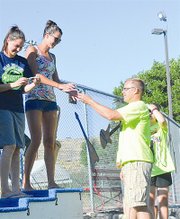 NACHES - A record shattering weekend, in which 39 new marks were established in the Naches city pool, gave the large crowd in attendance at the 2012 Mid-Valley Swim Championships plenty to cheer about this past Friday, Saturday and Sunday.
The largest cheer came from the Selah faithful, however, as the Dolphins rang up 614.5 points to walk off with their third consecutive championship trophy.
The Sunnyside Sharks, behind a six-victory performance from girls 12&U swimmer Jolissa Mendoza, had the Dolphins sweating it out, though. The Sunnyside Rotary-sponsored Sharks finished a close second with 592.5 points.
Toppenish's Tarpons gave a good accounting of themselves, placing third at the seven-team championship meet with 412 points.
The fourth through seventh place finishing clubs included Prosser (296), Naches (192), Othello (189) and Grandview (120).
In winning top honors for the third straight year, Selah received four-win efforts from Trista Hull at girls 8&U, Nolan Frampton at boys 14&U and from Bryce Newland at boys 18&U. The Dolphins also got a pair of victories in the individual events from both Elle Lancaster (girls 10&U) and Carson Vick (boys 12&U). Selah, too, chalked up first-place points in two of the 16 relay events that were held.
From a record-setting standpoint, Selah established 11 new marks in the 25-yard pool, as did Toppenish. Hull and Frampton combined for seven of Selah's 11 pool records.
Had a most valuable swimmer trophy been awarded this past weekend, chances are it would have gone to Toppenish's Katrina Johnson. A girls 14&U competitor, she was the lone swimmer at the championship meet to win all five individual events in one age division. Enroute to doing so, Johnson set a Naches pool record for her age grouping in the 50-yard butterfly. She covered the two lengths of the pool in 29.65 seconds, snapping the old record of 30.73 set by Grandview's Kinzi Poteet, which had stood since 2006.
Sunnyside's most valuable swimmer turned out to be Mendoza, who actually came away with more victories than did Johnson. The girls 12&U Shark won top honors in the 200-yard individual medley and in the 50-yard freestyle, butterfly and backstroke events. In the only race in her age division she didn't win, the 50-yard breaststroke, Mendoza posted the fifth fastest time in the finals, a clocking of 42.87. That race was won by Mendoza's teammate, Brielle Newhouse, in a time of 40.07 seconds.
Mendoza also picked up first-place honors in the two relay events for her age grouping, teaming with Emily Banks, Emily Broersma and Esmi Cerda for the victory in the 200-freestyle relay, and with Banks, Newhouse and Jessica Scheenstra for the 200-medley relay win.
Four other Sunnyside swimmers also enjoyed a big weekend. Notching two victories apiece in the individual events were Brittany Broersma, Marisa Broersma, Logan Rodriguez and Clay Schilperoort.
The younger of the Broersma girls, Brittany, at 16&U, set pool records in the 50-yard breaststroke and backstroke. Marisa Broersma, at 18&U, did likewise in the 50-yard breaststroke and 200-IM. The two Broersma's also got in on two additional pool records, teaming with Tara Van Corbach, Alexandra Newhouse and Payton Sample to establish new marks in the two girls 18&U relay events.
Rodriguez, a boys 8&U swimmer for Sunnyside, earned his two victories in the 25-yard freestyle and backstroke finals. And, he did it in record setting pace in the free, sprinting the length of the pool in 17.66 seconds. That clocking bested the old record of 17.80, set in 2004 by Prosser's Will Burgett, who this past weekend at boys 16&U was a three-time winner and set two pool records in the process.
Schilperoort, at boys 10&U, picked up his two wins for the Sharks in the 50-back and 200-IM. In the longer of the two races he shattered the former record, set earlier this season, by 21.72 seconds with a clocking of 3:14.03.
Of the 74 events staged in Naches this past weekend, Sunnyside claimed more victories than any other team, 20 in all. Toppenish picked up 19 first-place points and Selah ended up with 18 wins.
Of the 16 relay events that were staged, the Sharks made off with wins in six of them, followed by Toppenish with four victories and two apiece by Prosser, Selah and Naches.
Grandview's lone victory at the three-day meet came from boys 10&U swimmer Nicolas Cortez. He sped to a clocking of 44.22 seconds in the 50-yard breaststroke, more than two seconds ahead of the next closest finisher.
Other swimmers who turned in noteworthy performances at this year's championship meet included three-time individual race winners Alexis Medelez (girls 16&U free, 'fly and IM) and Bethany Imperial (girls 18&U free, 'fly and back), both of Toppenish; as well as Aaron George of Naches (boys 12&U free, 'fly and back). Recording two wins apiece in the individual events were Janealle Sutterlict of Toppenish (girls 10&U fly and IM), Haden Hicks of Prosser (boys 10&U free and 'fly) and Daniel Whitmore of Naches (boys 16&U back and IM).
Selah 614.5, Sunnyside 592.5, Toppenish 412, Prosser 296, Naches 192, Othello 189, Grandview 120
200-YARD INDIVIDUAL MEDLEY
Girls 10&U
1st-Janealle Sutterlict (T) 3:06.65, 2nd-Elle Lancaster (SE) 3:13.00, 3rd-Shaya Parrish (O) 3:19.85, 4th-Makayla Koerner (T) 3:20.08, 5th-Arizona Rodriguez (SU) 3:31.56, 6th-Brianna Desmarais (G) 3:34.19, 7th-Holly Rankin (P) 3:40.36, 8th-Kameran Rodriguez (SU) 3:42.17
Boys 10&U
1st-Clay Schilperoort (SU) 3:14.03, 2nd-Jesse Haines (SE) 3:41.54, 3rd-Maxx Black (N) 3:54.30, 4th-Cooper Vick (SE) 3:55.50, 5th-Kai Quigley (O) 3:58.38, 6th-Alec Bazaldua (T) 4:00.19, 7th-Robby Root (T) 4:00.77, 8th-Joseph Channel (P) 4:04.45
Girls 12&U
1st-Jolissa Mendoza (SU) 2:50.07, 2nd-Emily Banks (SU) 3:00.72, 3rd-Jesse Rees (SE) 3:06.70, 4th-Leah Blakney (P) 3:13.05, 5th-Joey Taff (O) 3:15.28, 6th-Esmi Cerda (SU) 3:18.41, 7th-Leslie Lizola (T) 3:18.94, 8th-Lily Stewart (T) 3:21.26
Boys 12&U
1st-Carson Vick (SE) 2:45.17, 2nd-Jacob Frampton (SE) 2:50.18, 3rd-Hunter Sparks (O) 3:01.96, 4th-Josue Garcia (T) 3:14.53, 5th-Carlo Rodriguez (SU) 3:14.84, 6th-Alex Regimbal (T) 3:18.98, 7th-John Herzog (SE) 3:20.10, 8th-Daniel Callahan (SE) 3:20.34
Girls 14&U
1st-Katrina Johnson (T) 2:43.23, 2nd-Kalie Bestebreur (SU) 2:45.98, 3rd-Lindsay Schilperoort (SU) 2:46.34, 4th-Katelyn Banks (SU) 2:46.84, 5th-Aydan Harrington (SU) 2:47.19, 6th-Tori Skelton (SE) 2:48.75, 7th-Carly Taff (O) 2:50.12, 8th-Erin Herzog (SE) 2:52.43
Boys 14&U
1st-Nolan Frampton (SE) 2:21.77, 2nd-Ivan Lancaster (SE) 2:32.18, 3rd-Alex Davalos (T) 2:36.12, 4th-Fox Rodriguez (SU) 2:37.11, 5th-Jordan Supnet (T) 2:40.61, 6th-Ryan Leischner (SE) 2:43.00, 7th-Zachery Zyskowski (N) 2:44.86, 8th-Joe Clark (T) 2:45.48
Girls 16&U
1st-Alexis Medelez (T) 2:28.77, 2nd-Brittany Broersma (SU) 2:28.87, 3rd-Danielle McKiernan (P) 2:40.86, 4th-Payton Sample (SU) 2:48.25, 5th-Tatum Sparks (O) 2:48.68, 6th-Kassidy Burnett (P) 2:53.51, 7th-Rachel Krawczyk (SE) 2:58.24, 8th-Brittany Borchert (SE) 2:58.49
Boys 16&U
1st-Daniel Whitmore (N) 2:17.94, 2nd-Alex Perez (SU) 2:27.65, 3rd-Justin Stanton (N) 2:36.25, 4th-Bailey Perez (SE) 2:38.91, 5th-Nate Scheenstra (SU) 2:43.39, 6th-Ian Kuebler (SE) 2:46.03, 7th-Andrew Brewington (N) 2:46.77, 8th-Christopher Martin (SU) 2:50.44
Girls 18&U
1st-Marisa Broersma (SU) 2:25.83, 2nd-Bethany Imperial (T) 2:32.36, 3rd-Aricka Smith (SE) 2:37.57, 4th-Jessica Morales (G) 2:52.17, 5th-Dalainee Viernes (SE) 2:55.40, 6th-Alexandra Newhouse (SU) 3:00.73, 7th-Tawnya Francis (G) 3:02.80, 8th-Tara Van Corbach (SU) 3:07.19
Boys 18&U
1st-Jeremy Klarich (T) 2:14.67, 2nd-Bryce Newland (SE) 2:17.21, 3rd-Garrett Rice (N) 2:22.00, 4th-Giovanni Rodriguez (SU) 2:33.74, 5th-Aaron Roberts (N) 2:37.63, 6th-Chase Baker (P) 2:43.47, 7th-Breyden Newland (SE) 2:44.08
200-YARD FREESTYLE RELAY
Girls 10&U
1st-Toppenish (J. Sutterlict, A. Gonzales, M. Koerner, E. Nishi) 2:31.82, 2nd-Selah 2:37.56, 3rd-Sunnyside (A. Rodriguez, R. Bonzi, B. Hazzard, K. Rodriguez) 2:43.03, 4th-Othello 2:48.87, 5th-Grandview (J. Colson, B. Desmarais, K. Ott, E. Febus) 2:49.13, 6th-Selah 3:05.62, 7th-Sunnyside (A. Garza, A. Sanchez, L. Campos, T. Perez) 3:06.07, 8th-Prosser 3:09.48
Boys 10&U
1st-Prosser (C. Wright, I. Moreno, B. Beckwith, H. Hicks) 2:25.90, 2nd-Selah 2:39.14, 3rd-Sunnyside (P. Gallagher, C. Robert, J. Siller, C. Schilperoort) 2:42.63, 4th-Toppenish 2:49.48, 5th-Othello 2:50.83, 6th-Selah 2:54.48, 7th-Grandview (N. Cortez, A. Morales, R. Dawson, J. Lakins) 3:03.94, 8th-Prosser 3:12.68
Girls 12&U
1st-Sunnyside (E. Banks, E. Broersma, E. Cerda, J. Mendoza) 2:14.30, 2nd-Prosser 2:17.47, 3rd-Toppenish 2:20.57, 4th-Sunnyside (C. Messmore, B. Newhouse, A. Davis, J. Scheenstra) 2:25.39, 5th-Othello 2:26.68, 6th-Selah 2:28.48, 7th-Grandview (K. Cortez, K. Colson, M. Manley, C. Ruiz) 2:29.86, 8th-Naches 2:30.80
Boys 12&U
1st-Selah (J. Frampton, J. Herzog, W. Richardson, C. Vick) 2:07.85, 2nd-Toppenish 2:17.49, 3rd-Sunnyside (J. Heffron, P. Van de Graaf, A. Gallagher, C. Rodriguez) 2:25.00, 4th-Othello 2:26.98, 5th-Selah 2:27.67, 6th-Toppenish 2:34.47, 7th-Prosser 2:34.97, 8th-Selah 2:37.48
Girls 14&U
1st-Sunnyside (A. Harrington, K. Bestebreur, S. Hazzard, K. Banks) 2:01.27, 2nd-Prosser 2:01.82, 3rd-Selah 2:02.19, 4th-Othello 2:08.96, 5th-Toppenish 2:10.22, 6th-Sunnyside (A. Hudgens, A. Davis, H. Perez, L. Schilperoort) 2:11.35, 7th-Selah 2:12.63, 8th-Grandview (K. Martinez, S. Bailes, R. Colson, T. Ebbelaar) 2:18.16
Boys 14&U
1st-Toppenish (J. Supnet, J. Clark, J. Imperial, A. Davalos) 1:46.64, 2nd-Selah 1:51.56, 3rd-Sunnyside (A. Heffron, M. Marquez, M. Gallagher, F. Rodriguez) 1:55.69, 4th-Grandview (M. Binfet, M. Prieto, T. Valenzuela, D. Wacenske) 1:56.13, 5th-Prosser 2:02.13, 6th-Toppenish 2:10.22
Girls 18&U
1st-Sunnyside (M. Broersma, T. Van Corbach, P. Sample, B. Broersma) 1:52.59, 2nd-Prosser 1:59.34, 3rd-Selah 1:59.80, 4th-Grandview (J. Morales, J. Wacenske, A. Marquez, T. Francis) 2:12.80, 5th-Selah 2:21.05, 6th-Toppenish 2:30.24
Boys 18&U
1st-Naches (A. Brewington, G. Rice, A. Roberts, D. Whitmore) 1:42.57, 2nd-Sunnyside (G. Rodriguez, N. Scheenstra, C. Martin, A. Perez) 1:44.39, 3rd-Toppenish 1:44.92, 4th-Selah 1:45.12, 5th-Prosser 1:45.17, 6th-Grandview (J. Churchill, D. Garza, B. Lynch-McGhan, F. Ruiz) 1:47.72, 7th-Othello 2:13.89
25-YARD BREASTSTROKE
Girls 8&U
1st-Trista Hull (SE) 20.64, 2nd-Halle Wright (P) 24.46, 3rd-Maile Lancaster (SE) 25.32, 4th-Vanessa Chavez (T) 27.07, 5th-Diana Lopez (T) 27.30, 6th-Katie Ramos (SE) 28.10, 7th-Isabella Vick (SE) 29.51, 8th-Elissa Hill (SU) 29.63
Boys 8&U
1st-Cade Rodriguez (O) 26.97, 2nd-Aiden Thien (O) 27.45, 3rd-Drake Rodriguez (O) 29.94, 4th-Nathan Oliphant (SE) 30.33, 5th-Michael Ozanich (SE) 30.86, 6th-Max Middlebrook (SE) 30.94, 7th-Myles Newhouse (SU) 31.17, 8th-Jack Kuhn (SE) 32.07
50-YARD BREASTSTROKE
Girls 10&U
1st-Elle Lancaster (SE) 44.31, 2nd-Alexis Gonzales (T) 44.50, 3rd-Bailey Hazzard (SU) 45.03, 4th-Kaylea Hartman (SE) 46.29, 5th-Kameran Rodriguez (SU) 47.51, 6th-Makayla Koerner (T) 48.49, 7th-Isabella Pruneda (O) 50.85, 8th-Arizona Rodriguez (SU) 51.03
Boys 10&U
1st-Nicolas Cortez (G) 44.22, 2nd-Coleman Wright (P) 46.33, 3rd-Haden Hicks (P) 46.41, 4th-Clayton Robert (SU) 47.76, 5th-Clay Schilperoort (SU) 51.39, 6th-Jesse Haines (SE) 51.58, 7th-Kai Quigley (O) 51.71, 8th-Alec Bazaldua (T) 53.40
Girls 12&U
1st-Brielle Newhouse (SU) 40.07, 2nd-Leah Blakney (P) 40.43, 3rd-Emily Banks (SU) 41.67, 4th-Jesse Rees (SE) 42.72, 5th-Jolissa Mendoza (SU) 42.87, 6th-Macy Clough (SU) 43.47, 7th-Chloe Messmore (SU) 43.68, 8th-Esmi Cerda (SU) 44.91
Boys 12&U
1st-Carson Vick (SE) 37.28, 2nd-Aaron George (N) 39.23, 3rd-Jacob Frampton (SE) 39.39, 4th-Hunter Sparks (O) 39.51, 5th-Josue Garcia (T) 41.79, 6th-Johnny Heffron (SU) 41.90, 7th-Daniel Callahan (SE) 44.02, 8th-Sammy Azevedo (O) 44.47
Girls 14&U
1st-Katrina Johnson (T) 36.46, 2nd-Kalie Bestebreur (SU) 38.11, 3rd-Aydan Harrington (SU) 39.16, 4th-Katelyn Banks (SU) 39.30, 5th-Erin Herzog (SE) 39.39, 6th-Ariana Regimbal (T) 40.46, 7th-Tori Skelton (SE) 40.86, 8th-Elyse Kuebler (SE) 41.45
Boys 14&U
1st-Jordan Supnet (T) 31.22, 2nd-Nolan Frampton (SE) 31.84, 3rd-Ivan Lancaster (SE) 32.57, 4th-Micah Binfet (G) 33.63, 5th-Fox Rodriguez (SU) 33.81, 6th-Jonathan Imperial (T) 35.02, 7th-Tavian Valenzuela (G) 36.15, 8th-Camden Baker (P) 36.68
Girls 16&U
1st-Brittany Broersma (SU) 34.29, 2nd-Alexis Medelez (T) 36.19, 3rd-Brittany Borchert (SE) 37.41, 4th-Tatum Sparks (O) 37.72, 5th-Kya Raschko (SE) 37.85, 6th-Rachel Krawczyk (SE) 38.24, 7th-Danielle McKiernan (P) 38.73, 8th-Payton Sample (SU) 40.82
Boys 16&U
1st-Will Burgett (P) 29.81, 2nd-Sam Kawakami (P) 32.59, 3rd-Daniel Whitmore (N) 32.96, 4th-Alex Perez (SU) 33.38, 5th-Hector Perez (T) 35.68, 6th-Justin Stanton (N) 35.75, 7th-Nate Scheenstra (SU) 37.41, 8th-Brendon Lynch-McGhan (G) 37.95
Girls 18&U
1st-Marisa Broersma (SU) 33.94, 2nd-Aricka Smith (SE) 36.25, 3rd-Bethany Imperial (T) 36.51, 4th-Alexandra Newhouse (SU) 38.01, 5th-Tara Van Corbach (SU) 40.09, 6th-Tawnya Francis (G) 40.56, 7th-Dalainee Viernes (SE) 40.69, 8th-Jessica Morales (G) 42.97
Boys 18&U
1st-Bryce Newland (SE) 30.78, 2nd-Giovanni Rodriguez (SU) 32.21, 3rd-Garrett Rice (N) 32.27, 4th-Jeremy Klarich (T) 32.32, 5th-Fabian Ruiz (G) 33.75, 6th-Jared Churchill (G) 34.14, 7th-Breyden Newland (SE) 35.62, 8th-Chase Baker (P) 36.18
25-YARD FREESTYLE
Girls 8&U
1st-Trista Hull (SE) 15.59, 2nd-Halle Wright (P) 18.94, 3rd-Daniella Duran (SU) 19.87, 4th-Isabella Vick (SE) 20.11, 5th-Maile Lancaster (SE) 20.21, 6th-Elissa Hill (SU) 20.25, 7th-Robin Willey (SE) 20.42, 8th-Grace Ziegler (SE) 20.54
Boys 8&U
1st-Logan Rodriguez (SU) 17.66, 2nd-Dylan Haines (SE) 19.26, 3rd-Jack Kuhn (SE) 19.82, 4th-Kaden Ruggles (T) 19.89, 5th-Myles Newhouse (SU) 20.29, 6th-Aiden Thien (O) 22.02, 7th-Easton Wright (P) 24.02, 8th-Chase Yanez (SU) 25.52
50-YARD FREESTYLE
Girls 10&U
1st-Shaya Parrish (O) 32.83, 2nd-Lily Lancaster (SE) 33.35, 3rd-Janealle Sutterlict (T) 33.43, 4th-Brianna Desmarais (G) 33.57, 5th-Elle Lancaster (SE) 35.31, 6th-Makayla Koerner (T) 35.56, 7th-Shelby DeVore (N) 37.84, 8th-Alexis Gonzales (T) 43.66
Boys 10&U
1st-Haden Hicks (P) 34.07, 2nd-Ian Moreno (P) 34.46, 3rd-Clay Schilperoort (SU) 34.99, 4th-Angel Morales (G) 36.38, 5th-Coleman Wright (P) 37.59, 6th-Brendan Beckwith (P) 38.11, 7th-Jesse Haines (SE) 38.43, 8th-Eli Ziegler (SE) 38.83
Girls 12&U
1st-Jolissa Mendoza (SU) 30.73, 2nd-Kaylyn Sanders (P) 30.98, 3rd-Maggie Simmons (N) 31.07, 4th-Emily Banks (SU) 31.94, 5th-Jesse Rees (SE) 32.42, 6th-Jessica Scheenstra (SU) 33.41, 7th-Joey Taff (O) 33.48, 8th-Crystal Chavez (T) 33.85
Boys 12&U
1st-Aaron George (N) 26.86, 2nd-Carson Vick (SE) 29.62, 3rd-Jacob Frampton (SE) 30.95, 4th-Hunter Sparks (O) 31.32, 5th-Josue Garcia (T) 32.32, 6th-Daniel Fitzgerald (P) 32.54, 7th-Dusty Carlson (O) 32.59, 8th-John Herzog (SE) 33.44
Girls 14&U
1st-Katrina Johnson (T) 27.28, 2nd-Carly Taff (O) 28.22, 3rd-Melanie Garza (SE) 28.57, 4th-Jaiden Hamilton (P) 28.96, 5th-Katelyn Banks (SU) 29.78, 6th-Summer Hazzard (SU) 30.05, 7th-Becky Wildman (P) 30.36, 8th-Aydan Harrington (U) 30.88
Boys 14&U
1st-Nolan Frampton (SE) 23.88, 2nd-Alex Davalos (T) 24.58, 3rd-Joe Clark (T) 26.00, 4th-Adrian Heffron (SU) 27.03, 5th-Ivan Lancaster (SE) 27.30, 6th-Jordan Supnet (T) 27.31, 7th-Zachery Zyskowski (N) 27.36, 8th-Fox Rodriguez (SU) 28.64
Girls 16&U
1st-Alexis Medelez (T) 26.63, 2nd-Brittany Broersma (SU) 26.88, 3rd-Tatum Sparks (O) 28.93, 4th-Payton Sample (SU) 29.00, 5th-Danielle McKiernan (P) 29.48, 6th-Rachel Krawczyk (SE) 30.02, 7th-Kassidy Burnett (P) 30.60, 8th-Brittany Borchert (SE) 30.67
Boys 16&U
1st-Will Burgett (P) 23.22, 2nd-Daniel Whitmore (N) 25.03, 3rd-Sam Kawakami (P) 25.15, 4th-Andrew Brewington (N) 25.76, 5th-Bailey Perez (SE) 26.13, 6th-Alex Perez (SU) 26.28, 7th-Justin Stanton (N) 26.47, 8th-Nate Scheenstra (SU) 26.79
Girls 18&U
1st-Bethany Imperial (T) 26.05, 2nd-Marisa Broersma (SU) 27.19, 3rd-Aricka Smith (SE) 27.26, 4th-Tara Van Corbach (SU) 30.01, 5th-(tie) Dalainee Viernes (SE) & Alexandra Newhouse (SU) 31.17, 7th-Tawnya Francis (G) 31.52, 8th-Jessica Morales (G) 32.33
Boys 18&U
1st-Bryce Newland (SE) 23.35, 2nd-James Wildman (P) 23.45, 3rd-Fabian Ruiz (G) 24.17, 4th-Garrett Rice (N) 25.00, 5th-Jared Churchill (G) 25.60, 6th-Jeremy Klarich (T) 25.83, 7th-Giovanni Rodriguez (SU) 26.42, 8th-Aaron Roberts (N) 27.41
200-YARD MEDLEY RELAY
Girls 10&U
1st-Toppenish (M. Koerner, A. Gonzales, J. Sutterlict, E. Nishi) 2:49.37, 2nd-Selah 2:53.64, 3rd-Grandview (K. Ott, J. Colson, B. Desmarais, S. Ibarra) 3:11.39, 4th-Sunnyside (L. Campos, B. Hazzard, K. Rodriguez, R. Bonzi) 3:17.19, 5th-Prosser 3:40.35, 6th-Othello 3:44.50, 7th-Selah 3:52.57, 8th-Selah 4:37.53
Boys 10&U
1st-Prosser (I. Moreno, J. Channel, H. Hicks, B. Beckwith) 3:01.81, 2nd-Sunnyside (C. Schilperoort, C. Robert, J. Siller, L. Newhouse) 3:09.02, 3rd-Selah 3:09.80, 4th-Toppenish 3:26.10, 5th-Selah 3:33.16, 6th-Toppenish 3:37.73, 7th-Grandview (R. Dawson, N. Cortez, A. Morales, J. Lakins) 3:48.82, 8th-Selah 4:29.40
Girls 12&U
1st-Sunnyside (E. Banks, B. Newhouse, J. Mendoza, J. Scheenstra) 2:25.86, 2nd-Prosser 2:37.28, 3rd-Sunnyside (K. Bunch, E. Cerda, L. Sample, E. Broersma) 2:43.01, 4th-Othello 2:47.76, 5th-Grandview (K. Cortez, K. Colson, C. Ruiz, L. Binfet) 2:48.93, 6th-Toppenish 2:50.34, 7th-Selah 2:55.55, 8th-Sunnyside (M. Hernandez, M. Clough, M. Bowen, C. Messmore) 2:59.09
Boys 12&U
1st-Selah (J. Frampton, D. Callahan, C. Vick, J. Herzog) 2:27.17, 2nd-Toppenish 2:36.04, 3rd-Othello 2:42.15, 4th-Selah 2:57.28, 5th-Selah 3:06.80, 6th-Grandview (A. Morales, N. Cortez, N. Gutierrez, W. Lakins) 3:13.66, 7th-Naches 3:17.25, 8th-Toppenish 3:30.93
Girls 14&U
1st-Sunnyside (L. Schilperoort, K. Bestebreur, A. Harrington, K. Banks) 2:15.10, 2nd-Selah 2:21.98, 3rd-Prosser 2:23.80, 4th-Toppenish 2:24.24, 5th-Sunnyside (A. Hudgens, S. Hazzard, H. Perez, A. Davis) 2:30.25, 6th-Prosser 2:42.00, 7th-Grandview (K. Martinez, R. Colson, T. Ebbelaar, S. Bailes) 2:43.20, 8th-Othello 2:44.12
Boys 14&U
1st-Toppenish (A. Davalos, J. Supnet, J. Clark, J. Imperial) 2:00.88, 2nd-Selah 2:07.48, 3rd-Grandview (T. Valenzuela, M. Binfet, D. Wacenske, M. Prieto) 2:15.57, 4th-Prosser 2:22.96, 5th-Toppenish 2:32.56
Girls 18&U
1st-Sunnyside (B. Broersma, M. Broersma, A. Newhouse, T. Van Corbach) 2:08.65, 2nd-Selah 2:13.69, 3rd-Toppenish 2:16.00, 4th-Prosser 2:17.75, 5th-Grandview (J. Morales, J. Wacenske, T. Francis, A. Marquez) 2:31.26, 6th-Toppenish 3:00.23
Boys 18&U
1st-Naches (A. Roberts, G. Rice, D. Whitmore, A. Brewington) 1:54.92, 2nd-Prosser 1:55.27, 3rd-Selah 2:00.93, 4th-Toppenish 2:02.31, 5th-Sunnyside (C. Martin, A. Perez, N. Scheenstra, A. Heffron) 2:02.44
25-YARD BUTTERFLY
Girls 8&U
1st-Trista Hull (SE) 17.96, 2nd-Daniella Duran (SU) 22.49, 3rd-Maile Lancaster (SE) 23.52, 4th-Grace Ziegler (SE) 23.61, 5th-Isabella Vick (SE) 23.86, 6th-Elaina Parrish (O) 24.84, 7th-Abby Fitzgerald (P) 28.20, 8th-Vanessa Chavez (T) 29.52
Boys 8&U
1st-Myles Newhouse (SU) 22.24, 2nd-Logan Rodriguez (SU) 22.61, 3rd-Drake Rodriguez (O) 37.99 (rest of field disqualified)
50-YARD BUTTERFLY
Girls 10&U
1st-Janealle Sutterlict (T) 36.00, 2nd-Brianna Desmarais (G) 37.77, 3rd-Shaya Parrish (O) 39.53, 4th-Elle Lancaster (SE) 40.14, 5th-Shelby DeVore (N) 43.83, 6th-Makayla Koerner (T) 46.97, 7th-Ryen Bonzi (SU) 46.99, 8th-McKenna Swindell (SE) 52.47
Boys 10&U
1st-Haden Hicks (P) 39.50, 2nd-Clay Schilperoort (SU) 41.72, 3rd-Ian Moreno (P) 46.69, 4th-Alec Bazaldua (T) 51.11, 5th-Kai Quigley (O) 51.25, 6th-Joseph Channel (P) 53.01, 7th-Tyler Hernandez (T) 55.25, 8th-Angel Morales (G) 56.53
Girls 12&U
1st-Jolissa Mendoza (SU) 32.87, 2nd-Emily Banks (SU) 34.85, 3rd-Jesse Rees (SE) 36.74, 4th-Maggie Simmons (N) 37.58, 5th-Ali Cox (P) 38.34, 6th-Joey Taff (O) 38.48, 7th-Kaylyn Sanders (P) 39.37, 8th-Esmi Cerda (SU) 39.40
Boys 12&U
1st-Aaron George (N) 30.17, 2nd-Carson Vick (SE) 33.43, 3rd-Hunter Sparks (O) 33.84, 4th-Rhyan Gonzales (T) 35.90, 5th-Alex Regimbal (T) 36.94, 6th-Will Richardson (SE) 40.38, 7th-Daniel Callahan (SE) 43.20, 8th-Nathaniel Gutierrez (G) 43.54
Girls 14&U
1st-Katrina Johnson (T) 29.65, 2nd-Jaiden Hamilton (P) 31.66, 3rd-Aydan Harrington (SU) 31.80, 4th-Katelyn Banks (SU) 32.02, 5th-Elyse Kuebler (SE) 33.35, 6th-Carly Taff (O) 33.75, 7th-Lindsay Schilperoort (SU) 34.57, 8th-Erin Herzog (SE) 34.67
Boys 14&U
1st-Nolan Frampton (SE) 27.78, 2nd-Joe Clark (T) 28.81, 3rd-Jordan Supnet (T) 39.33, 4th-Jonathan Imperial (T) 29.74, 5th-Alex Davalos (T) 31.29, 6th-Micah Binfet (G) 31.94, 7th-Zachery Zyskowski (N) 32.84, 8th-Adrian Heffron (SU) 32.94
Girls 16&U
1st-Alexis Medelez (T) 28.48, 2nd-Brittany Broersma (SU) 29.30, 3rd-Tatum Sparks (O) 31.42, 4th-Danielle McKiernan (P) 31.50, 5th-Payton Sample (SU) 32.77, 6th-Kassidy Burnett (P) 33.65, 7th-Madi Marquez (SU) 34.94, 8th-Rachel Krawczyk (SE) 38.79
Boys 16&U
1st-Will Burgett (P) 25.82, 2nd-Daniel Whitmore (N) 26.41, 3rd-Sam Kawakami (P) 27.80, 4th-Alex Perez (SU) 28.56, 5th-Bailey Perez (SE) 29.19, 6th-Justin Stanton (N) 30.37, 7th-Andrew Brewington (N) 30.45, 8th-Devante Maltos (T) 31.41
Girls 18&U
1st-Bethany Imperial (T) 28.39, 2nd-Marisa Broersma (SU) 28.67, 3rd-Aricka Smith (SE) 31.23, 4th-Tara Van Corbach (SU) 32.48, 5th-Dalainee Viernes (SE) 34.32, 6th-Alexandra Newhouse (SU) 34.55, 7th-Tawnya Francis (G) 35.05, 8th-Jessica Morales (G) 36.25
Boys 18&U
1st-Bryce Newland (SE) 25.83, 2nd-Garrett Rice (N) 26.60, 3rd-Fabian Ruiz (G) 27.35, 4th-James Wildman (P) 27.41, 5th-Jeremy Klarich (T) 28.15, 6th-Jared Churchill (G) 28.87, 7th-Dominic Garza (G) 30.68, 8th-Aaron Roberts (N) 32.93
25-YARD BACKSTROKE
Girls 8&U
1st-Trista Hull (SE) 18.73, 2nd-Robin Willey (SE) 23.69, 3rd-Katie Ramos (SE) 23.98, 4th-Isabella Vick (SE) 24.63, 5th-Grace Ziegler (SE) 25.19, 6th-Daniella Duran (SU) 25.69, 7th-McKayla Goudy (T) 26.75, 8th-Elissa Hill (SU) 27.90
Boys 8&U
1st-Logan Rodriguez (SU) 22.62, 2nd-Myles Newhouse (SU) 23.87, 3rd-Kaden Ruggles (T) 24.01, 4th-Leif Van Doren (SU) 28.22, 5th-Chase Yanez (SU) 30.25, 6th-Dylan Haines (SE) 30.61, 7th-Cannon Hauver (SU) 30.77, 8th-Blake Bazaldua (T) 32.15
50-YARD BACKSTROKE
Girls 10&U
1st-Elle Lancaster (SE) 40.54, 2nd-Lily Lancaster (SE) 40.58, 3rd-Shaya Parrish (O) 42.83, 4th-Janealle Sutterlict (T) 45.71, 5th-Brianna Desmarais (G) 47.35, 6th-Shelby DeVore (N) 48.75, 7th-Holly Rankin (P) 49.87, 8th-Ellie Richardson (SE) 51.20
Boys 10&U
1st-Clay Schilperoort (SU) 40.41, 2nd-Haden Hicks (P) 40.69, 3rd-Ian Moreno (P) 45.15, 4th-Reece Ozanich (SE) 46.58, 5th-Jesse Haines (SE) 48.08, 6th-Cooper Vick (SE) 49.61, 7th-Samuel Olsen (T) 50.13, 8th-Eli Ziegler (SE) 50.58
Girls 12&U
1st-Jolissa Mendoza (SU) 36.21, 2nd-Emily Banks (SU) 38.81, 3rd-Joey Taff (O) 40.03, 4th-Maggie Simmons (N) 40.62, 5th-Kylah Bunch (SU) 40.66, 6th-Ali Cox (P) 41.25, 7th-Jesse Rees (SE) 43.64, 8th-Kaylyn Sanders (P) 45.60
Boys 12&U
1st-Aaron George (N) 31.01, 2nd-Carson Vick (SE) 35.45, 3rd-Jacob Frampton (SE) 36.01, 4th-Dusty Carlson (O) 38.68, 5th-Daniel Fitzgerald (P) 40.31, 6th-Hunter Sparks (O) 40.68, 7th-Will Richardson (SE) 41.95, 8th-Josue Garcia (T) 43.19
Girls 14&U
1st-Katrina Johnson (T) 33.69, 2nd-Carly Taff (O) 34.03, 3rd-Kalie Bestebreur (SU) 34.25, 4th-Lindsay Schilperoort (SU) 34.53, 5th-Melanie Garza (SE) 34.69, 6th-Aydan Harrington (SU) 36.57, 7th-Aidan Hudgens (SU) 36.65, 8th-Katelyn Banks (SU) 36.67
Boys 14&U
1st-Nolan Frampton (SE) 28.37, 2nd-Alex Davalos (T) 30.68, 3rd-Ivan Lancaster (SE) 31.72, 4th-Zachery Zyskowski (N) 32.24, 5th-Nate Koerner (T) 33.10, 6th-Ryan Leischner (SE) 33.51, 7th-Joe Clark (T) 33.96, 8th-Jonathan Imperial (T) 34.09
Girls 16&U
1st-Brittany Broersma (SU) 31.83, 2nd-Alexis Medelez (T) 32.19, 3rd-Danielle McKiernan (P) 34.41, 4th-Payton Sample (SU) 35.72, 5th-Kassidy Burnett (P) 36.43, 6th-Tatum Sparks (O) 37.23, 7th-Brook John (T) 37.33, 8th-Madi Marquez (SU) 39.04
Boys 16&U
1st-Daniel Whitmore (N) 28.95, 2nd-Will Burgett (P) 29.41, 3rd-Sam Kawakami (P) 31.15, 4th-Christopher Martin (SU) 31.97, 5th-Bailey Perez (SE) 32.19, 6th-Alex Perez (SU) 33.51, 7th-Justin Stanton (N) 33.96, 8th-Andrew Brewington (N) 36.65
Girls 18&U
1st-Bethany Imperial (T) 30.72, 2nd-Aricka Smith (SE) 31.35, 3rd-Marisa Broersma (SU) 32.23, 4th-Dalainee Viernes (SE) 37.52, 5th-Alexandra Newhouse (SU) 38.47, 6th-Jessica Morales (G) 38.51, 7th-Charley Beth Rollinger (SU) 39.44, 8th-Tara Van Corbach (SU) 41.51
Boys 18&U
1st-Bryce Newland (SE) 27.42, 2nd-Garrett Rice (N) 29.10, 3rd-Jeremy Klarich (T) 30.41, 4th-Aaron Roberts (N) 30.81, 5th-Jared Churchill (G) 33.39, 6th-Chase Baker (P) 36.14