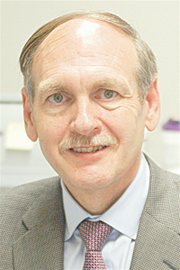 So far so good, is how Sunnyside Community Hospital's new CFO says the new job is faring.
Cary Rowan brings more than 26 years of health care accounting experience to Sunnyside. Formerly he worked at Health Tech as a corporate regional financial officer, aiding rural hospitals with their financial stability.
Rowan says his main objective and hope for the small communities is to keep their rural hospitals open.
"If you don't have a hospital, your whole community will leave," he said.
After receiving a Master's degree in accounting, Rowan went to work for a health care company, and was sold.
"I've been in the health care industry ever since," he said.
Since starting his job at Sunnyside Community Hospital last month, Rowan is still in the process of relocating to Sunnyside from Nashville, Tenn.
His main objective is to keep Sunnyside Community Hospital financially viable. Rowan wants to keep the hospital open and ensure the agency is operating on a positive financial basis. As for his new position, he says there are several projects underway that will bring positive energy to the hospital's financial status.
"... (The projects) should show rewards to the bottom line," he added.
Being in the Pacific Northwest for nearly two months now, Rowan says he's right at home. With mountain hiking trails just a short drive away, one of his favorite pastimes is easily attainable; mountain hiking.
While hiking in postcard like settings, Rowan says he's also taken up photography in order to share with others the beautiful views and sights he encounters.
In addition to hiking trails, Rowan says he likes to get "off the beaten path" and explore other countries of the world.
Most recently he and his wife traveled to New Zealand, and says his worldwide travels are far from over.
Traveling brings out another passion for Rowan... history. No matter where he's at, he loves to learn the history and cultural practices of the place he's visiting.
"Never stop learning," is Rowan's life motto.