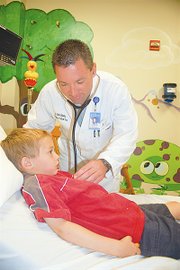 PROSSER - Bumble bees and trees and polka-dotted animals all form a colorful welcome for children seeking emergency care at PMH Medical Center.
About three months ago the Prosser facility's Wayne Hogue Emergency Care Center unveiled a new pediatric emergency room.
The room began as an idea by an ER nurse on staff at PMH, and from there the project took off.
Brightening up the pediatric ER was a community project that took six months to complete at no cost to the hospital.
Among those participating in the makeover were art students at Prosser High School, who created vibrant murals for the room they call "Polka Place."
Art students also created an illustrated book for pediatric patients depicting the story behind the creatures they see on the walls.
Other child-friendly amenities include cabinetry to hide scary-looking emergency equipment and an IV stand that looks more like a bright yellow bird wearing a jester's hat.
There's also a TV to watch cartoons.
Karla Greene is an ER nurse at PMH working on earning board certification as a pediatric emergency nurse, a classification that includes fewer than 3,000 nurses nationwide. She's seen the transformation first hand when youngsters enter the pediatric emergency room.
"They love it!" Greene smiles.
She says the bright colors and engaging characters are helpful in determining whether a child is critically ill or just having mild symptoms. "If they start playing and get excited about the room it means that maybe they're having a bad day but they're probably not seriously ill."
Conversely, a child that remains listless or ignores the bright surroundings might indicate someone with a more serious illness or condition.
Whether it's stitching up a playground wound, setting a broken bone or dealing with a tummy ache, the room's soothing tone is of benefit to all.
That's according to Dr. Keith Butvilas, ER director for the medical center.
"It's very difficult to evaluate a child who is scared," says Butvilas. "The more relaxed they are, the more it helps from a medical standpoint."
He says the room with its colors and kid-friendly details helps parents feel more at ease while their little boy or girl is treated.
The room's wonder and whimsy - the bees and the trees - bring a smile to all who visit, regardless of their age.
"It's the best room here!" Greene said.