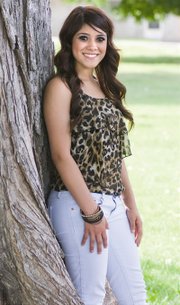 Miss Sunnyside candidate Perla Alcantar has a passion for helping the homeless.
That's one reason she is vying for the 2012-13 Miss Sunnyside title.
Alcantar said there are many opportunities to serve the community, but Miss Sunnyside is a unique way to promote awareness of issues affecting the community.
The homeless, she said, aren't often recognized in the community. However, she knows there is a need for community support of organizations serving those who are most needy in Sunnyside.
If she is selected to serve as Miss Sunnyside, Alcantar wants to work with Sunrise Outreach Center.
"It provides great items for the homeless and families in need. I was amazed when I saw all the foods, candies, pampers and other items they provide to those in need," said Alcantar.
She said everyone in the community deserves to feel as though they are equal. As a result, she wants to help those who are most in need.
"Donating and helping the homeless and families in need is a great feeling because you are able to do something special for someone that really needs it," said Alcantar.
"I don't like seeing people in our community living on the streets, asking for money and in need of food to survive," she said.
Alcantar wants to promote awareness in the community of the services provided by Sunrise Outreach Services. She wants to organize food and clothing drives for the organization.
"By the end of my community service project, I would love to make a dinner for all the homeless and families in need," said Alcantar.
Miss Sunnyside also has the opportunity to represent the community. Alcantar believes this is an important responsibility that she is ready to take on.
"If someone was to visit Sunnyside, I would gladly take them to Sunnyside Community Hospital, the Sunnyside Police Department and Sunrise Outreach Center," said Alcantar.
She said she believes the local hospital provides a service that benefits the community.
"They do a great job of keeping our community in good health and if there's an emergency, the staff will gladly help the patient as soon as possible," said Alcantar.
This is important to her because of the care provided to her when she was attacked by a dog and was severely injured.
Alcantar said the police department is also important to her because she believes it serves as a resource in the community.
"They do their best at all times to keep our community safe," she said of the police staff.
The Sunnyside High School junior has plans to attend Washington State University to major in nursing.
She said she would like to eventually pursue a medical degree so that she can serve others as a doctor.
"I plan on doing all this in the future because I want to help people when they aren't feeling well and are in need of help," said Alcantar, who is the daughter of Cornelia and Jesus Alcantar.
Her sponsor is Jose Alcantar.
The Miss Sunnyside Pageant will be staged on Saturday, Sept. 15, at the Sunnyside High School auditorium.