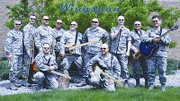 After U.S. Military budget cuts, the 560th Air Force Band is preparing for its last hurrah.
Under the command of Maj. James Phillips, this 35-member band is attached to the 141st Air Refueling Wing of the Washington Air Guard. The group plans to make an appearance in Sunnyside as part of its final tour in late June. The concert is being brought to Sunnyside area residents by the Sunnyside Chamber of Commerce and is also sponsored by Fiesta Foods.
Air National Guard Bands support the global Air Force and Air National Guard missions by providing musical products and services to the military and community. They produce programs to maintain the morale and lift the spirits of the military and the community.
Sunnyside's Joey Castilleja, a member of the band, says band members wanted to perform in their hometowns with a lasting goodbye. Two ensembles of the band include rock and jazz versions.
Wednesday evening, June 27, at 6:30 p.m. the Jazz in Blue ensemble will perform classical jazz music at Centennial Square in Sunnyside.
For the second set, Wingspan, the Air Force Band's rock group, is set to bring the house down.
To wind down the evening the group will return to its jazzy and patriotic roots, reminding the audience of the country they love and serve. The concert is free to all.
For more information on the band, visit http://www.bandofthenorthwest.ang.af.mil.