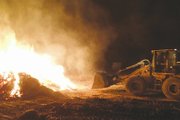 OUTLOOK - The George DeRuyter Dairy, located in the 3000 block of Dekker Road near Outlook, this morning (Friday) at approximately midnight lost nearly 50 tons of hay to what firefighters believe was arson.
Yakima County Fire District #5 personnel rushed to the scene of the haystack fire and found the end of the stack, which was closest to the roadway, ablaze.
According to Capt. Joel Byam the fire was spreading to the remainder of the stack and employees of the dairy were "...busy moving unaffected bales of straw to try to save as many bales as possible."
He said firefighters assisted in protecting the straw that was not burning and contained the blaze by approximately 1:30 a.m.
"This fire is believed to be an arson fire due to it burning at the end of the stack near the road and appeared to have started on the outside of the bales," said Byam.
He said the haystack fire is the second arson of its kind in a week's time.
"This was also the second fire at a dairy in 12 hours. Earlier in the day units from Mabton and Grandview were out at Mensonides Dairy in Mabton where roughly 130 to 160 tons of hay burned that started from spontaneous combustion," Byam said.
The loss at the George DeRuyter Dairy is estimated at $3,500, and the investigation has been turned over to the Yakima County Fire Marshal's Office.
All told, three stations and 10 firefighters within Yakima County Fire District #5 fought the blaze.