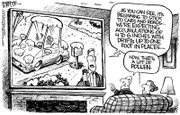 Every year the month of May is exciting.
When you're younger it means summer is almost here. As a senior high school student, graduation is near. Then the question begs, what will you do next?
Once May rolls around after four years of college, the question of what comes next gets even more serious. Where will I work and live? Will I ever get a summer vacation again?
Now, for me, the month of May brings back memories. It's a time of reflection. Two years ago at this time I was preparing to graduate university, packing everything I owned into my tiny Honda and getting ready to move...again.
Now I'm settled, something I never thought possible. I have the job I wanted and ultimately the life I wanted.
Summer is usually about getting as much fun in as you can before the hustle and bustle of summer is, before you know it, over.
Don't forget, we have low-key activities to do right here in our valley. It often surprises me how little activities we think we have to do around here.
This summer I want to go fishing, hiking and heck, for a walk in the park.
While the economy is heavily pulling on the purse strings, let's not forget to take it easy. Maybe you can't afford to take the month-long Hawaiian vacation you're used to. But perhaps, turning the back yard into a nice summer stay-cation is just what the doctor ordered. There are plenty of fun, yet relaxing, activities to do right here, at home.
A few of the tricks I use to relax and "feel" on vacation are to visit local wineries. We have some of the best wines made right here in our valley. In addition, learning about the winemaking process is interesting, educational and fun. It's also fun to meet the folks passing through.
Fort Simcoe is also a nice day-long getaway. With the price of the $10 parking fee, the trip is virtually free. Not only is it a scenic view, it's a historical learning experience.
What about our local museums and summer attractions such as swimming pools and parks? A nice day at the park can be just as relaxing as getting on a plane to a beachy destination.
This summer, I encourage our Daily Sun News readers to relax, have fun and remember to take time out for you.