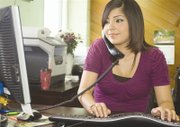 Learning customer service skills at a young age has extremely helped Grandview resident Deanna Zamora, 22, on her current career path.
The Sunnyside Farmer's Insurance agent says she loves her job. After graduating Mabton High School, she spent a stint working for a cell phone company, learning the ropes of customer service techniques.
As an insurance agent, she says there isn't one thing about her job she doesn't like.
"I love being able to help customers with their needs," she said.
Insuring lives and property is for Zamora a true delight.
"I'm helping keep them safe," she said.
But her favorite facet of the insurance agent life is being able to show support to Farmer's customers.
With two small children of her own, she doesn't have much free time, she says.
But the love of her children motivates her to excel at her job, and keep on keeping on.
In her limited spare time, Zamora says she loves spending quality time with her family, friends and of course, her children.
Working at the insurance firm keeps her busy, but she says as opposed to other customer service jobs, there aren't many raging, angry customers.
"It's calm, but busy," she said.
At the age of just 22, Zamora says her job is a perfect fit for her life.