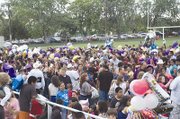 MABTON - The crowd that packed the gym rose to their feet as the Mabton High School class of 2012 marched in to the school gymnasium last Friday.
The nearly 50 Mabton graduates walked tall as they took their last steps as high school students.
Class valedictorian Jacqueline Cruz encouraged her classmates to make their mark on the world.
"We have one life to make a difference, what will you do with yours?" she asked.
"As each of us go forth seeking to make our mark on this world, you can remember this, we made it," she said.
Classmates awarded scholarships included Rafael Abundes, with a total of $920; Isabela Ahumada, with $7,500; Stephanie Alcantar, totaling $14,939; Esmeralda Aviles, with $1,000; Itzel Barajas, totaling $6,500; Evelyn Chavez with a $1,000 scholarship; Marlen Chavez Magana with a grand total of $49,720 awarded in scholarships; Roman Chavez Jr., with $3,728; Jacqueline Cruz, totaling $35,320; Karen Mendoza, who was awarded $14,000 in scholarships; Nohemi Meza, with $10,000; Fidel Ortega, with $6,000; Daniel Quintero with $1,500; and Samantha Rios, who received a total of $4,044 in scholarships.
Class salutatorian Marlen Chavez likened life to climbing a mountain.
"We may get tired, some may want to take a shortcut, but if we keep moving forward the reward will come," she said.
"Every dream begins with a dreamer," Chavez said, quoting Harriet Tubman.
Chavez encouraged her classmates to keep on, keeping on, not giving up and continuing to pursue their dreams.
The Mabton High School class of 2012 was awarded their diplomas and symbolically showed their movement from high school students to adults in the world, by moving their tassels. As students marched out of the building the crowd roared with congratulations and pride in their 2012 senior class.