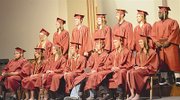 GRANDVIEW - Sunnyside Christian High School's 14 graduates of the class of 2012 last Friday celebrated all they have accomplished and know that they have much to look forward to.
Four of those graduates, including Matthew DeGroot, Grace den Hoed, Alyssa Haak and Madeline Wavrin, were among the top 10 percent of Washington state's graduating class in terms of academic achievements.
den Hoed and De Groot shared valedictorian honors and each had an opportunity to address those gathered for the commencement ceremony held at Grandview Church of the Nazarene.
den Hoed said the class of 2012 is a tight knit group that is bonded much like a family. She said the graduates would not have been successful without the support of family, faculty and friends, which helped the "quiet bunch" through the years.
"Thinking about the past and how it's shaped the present, I can only hope it will influence our future, too," she said.
den Hoed said many in the graduating class have plans for their future and others aren't yet decided, "...but God will be with the class every step of the way."
De Groot, too, was grateful to all who have supported the Sunnyside Christian graduates.
He said he can look back and see the many ways the graduates have been blessed.
The class verse was Col. 1:10. "And we pray this in order that you may live a life worthy of the Lord and may please Him in every way: bearing fruit in every good work, growing in the knowledge of God."
De Groot said it is his prayer that the foundation provided the graduates "...will remain in place and help us bear fruit as we live out our lives."
The class of 2012 presented Sunnyside Christian Schools Board Member Dean Broersma with the class gift of $500 to be used for picnic tables on the school grounds.
Commencement speaker Neil Karsten was next to speak, telling the graduates it is his fervent hope that they will be able to live according to not just the class verse, but according to many scriptural directives.
He said his experience with the class of 2012 began last year, their junior year.
"I had just graduated from college," said Karsten, stating his experience as a teacher with the graduates taught him many things.
"The class of 2012 had a reputation for being quiet...that was different from what I found them to be," he said.
Karsten said he learned to like sports because of the class of 2012, and he learned the graduates treat others with a kindness that is unique to who they are.
Directing the class, he said, "There will be many things and people who will try to take you off the path God has planned."
Karsten told the graduates not to allow their faith to be deterred.
"Don't compartmentalize your faith," he also said.
Karsten said doing God's work is not always easy, but the challenges along the way build character, a truism he has held strong to as a teacher.
Building character, he said, has been something he has wanted the students in his classroom to learn for the past two years. He said there were times the graduates didn't enjoy completing certain tasks, but he encouraged them by reminding them, "It will build character."
Karsten said being responsible, being accountable, remaining fair and respectful will always make an individual stronger and more successful in life.
Following his speech, Principal Dean Wagenaar presented the class of 2012 with scholarships and awards before they were handed their diplomas.
The commencement ceremony ended with a reception line giving friends and family the opportunity to wish the graduates a successful future.