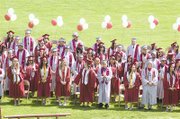 GRANDVIEW - The clouds parted and presented Grandview High School's class of 2012 a sunny farewell during a commencement ceremony last Saturday morning outdoors at Leenhouts Stadium.
"I'm glad we didn't try to fit everyone in the gym," a relieved GHS Principal Mike Closner said just before introducing the class of 2012.
Held just hours after a heavy rain the night before, the ceremony's keynote speaker, as requested by the class of 2012, was GHS teacher and coach David Gibb.
"Be proud of where you're from. Be proud you are a Greyhound," he told the 127 graduates. "Today is your day, a milestone."
He was quick to remind the class, though, that graduation from high school is not an end in itself, "The past is a guide post, not a hitching post."
He lauded the class on accumulating nearly half a million dollars in scholarships and that about half of the grads in the GHS class of 2012 plans to continue their education.
"Don't be a stranger," he closed. "We want to see your successes."
The theme of appreciating success while looking forward was echoed by valedictorian Karissa Carpenter.
"Graduation is the beginning of a new chapter," she said. "Our story will not end. So many doors will be open for us." With a quote from Dr. Seuss she added, "Oh the places you'll go!"
Superintendent Kevin Chase praised high school staff on hand, complete in gowns and honor cords reflecting their academic achievements at university. He appreciated their example in showing "it's more than just high school."
He also praised this year's graduating class - including 74-year-old John Booth who graduated with Compass High School's class last Thursday.
"He knew graduating from high school was very important," Chase said of Booth, who left high school for the military one credit shy of graduation.
Chase also praised the GHS class of 2012 as an example for future classes. "I congratulate you for being an example in showing the way to others," he told the graduates.