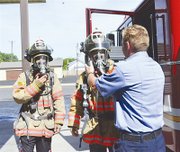 For Sunnyside High School seniors Wilson Tramel, Cesar Negrete and four other classmates, spending time with firefighters was about more than completing a senior project.
For Tramel, who has spent three summers as a lifeguard at the Sunnyside municipal swimming pool, it was about expanding his knowledge of lifesaving skills.
He said he believes in serving his community and wanted to learn important skills that would help him do that.
Negrete heard about the opportunity of working with Sunnyside's firefighters from his brother, who in 2009 had a senior project on the subject of firefighting careers.
"I thought it was something I could also explore," said the younger Negrete.
Both he and Tramel wanted to learn about firefighting careers and after spending more than 15 hours each with those who serve Sunnyside as firefighters and paramedics, they said they are interested in serving as volunteer firefighters.
The six students who completed senior projects focused on firefighting and paramedic careers, said Firefighter and Paramedic Dennis Blumer, noting the teens had to sign confidentiality agreements. They had to undergo a background check and had to be on track to graduate. The students also had to learn about HIPPA laws.
The students observed day-to-day operations, were able to go on calls with the Sunnyside Fire Department personnel and took a six-hour CPR course.
"We are certified to use public access defibrillators," said Tramel of the training the students received.
Negrete said one of the calls he was able to ride along on involved a structure fire.
"We learned a lot from the firefighters," he said.
Tramel said he was on a call with the ambulance when there was black ice on the roadways.
"I jumped onto a patch of black ice when I was getting equipment and hit my head. That taught me emergency workers must be careful not to become a casualty of their environment," he laughed.
Negrete said the experience of riding along on calls was eye-opening and he is further inspired to serve as a volunteer firefighter while he pursues a degree in business.
He plans to attend Columbia Basin Community College in the fall. He plans to obtain a four-year degree from Washington State University afterward.
Tramel, too, wishes to serve as a volunteer firefighter while pursuing a medical degree. His plans are to attend Columbia Basin Community College in the fall and to earn a medical degree from an institution like the University of Washington.
Tramel said the students also assisted the fire department personnel with the annual chili feed during Sunnyside's Lighted Farm Implement Parade.
He said of working with the firefighters and paramedics, "I felt like part of the gang."
Tramel said the staff at the local fire department was eager to teach him the different aspects of their careers and he believes the experience will help him with his career goals.
Negrete said, "The overall experience was great. The firefighters were very welcoming, making me feel like part of the team."
He said that camaraderie is what really helped him learn the most.