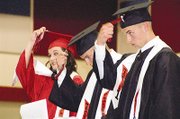 BICKLETON - Growing up in a microscopic town, according to Bickleton High School graduating senior Nic Venema, was a pleasure.
He says the town's theme must be, "love thy neighbor."
As the salutatorian recalled more than 13 school years in Bickleton at this past Sunday's graduation ceremony, he says Bickleton has taught him to be a man of many values.
As part of her valedictorian speech, Aymie Osborne read Dr. Seuss's, "Oh, the places you'll go." The story talks about the great things one is capable of, coinciding with the class motto and an Eleanor Roosevelt quote, "The future belongs to those who believe in the beauty of their dreams."
The one other graduating senior, Nathaniel Konrad Grabner, says his two classmates left him feeling welcome and excited about re-entering the public school scene after a hiatus that lasted many years.
The three spoke highly of each other, recanting memories of their tests, school trips and funny moments. Osborne told a story of the students' eighth grade trip to Yakima's Meadowbrook Family Fun Center. She says to their surprise, she took first place honors in all three go-cart races she competed in against her male classmates. After so many years later, she wanted to remind Venema of her victories by presenting him with her winning checkered flags she received.
"I'm giving one to Konrad too, because he if was there, I would have beaten him too," she added.
Before the three graduates were awarded their diplomas, scholarships were awarded. Venema collected more than $8,000 in scholarships and Osborne raked in more than $17,000.
Venema and Osborne have both been accepted to Central Washington University. Osborne plans to major in special education, while Venema says he wants to pursue field biology. Grabner says he wants to pursue a career as a mechanic or a law enforcement officer.
After a slideshow detailing the three graduates' childhoods in Bickleton, they were awarded diplomas and greeted with a line of community and family members who presented them with hugs and congratulations.