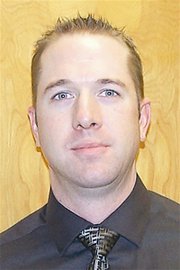 PROSSER - Following a national search, the board of trustees of the Benton Rural Electric Association in Prosser has selected Clint Gerkensmeyer to be the new general manager.
He has served as the engineering manager for Benton REA for the last five years and assumed the responsibilities of general manager last Friday when Charles (Chuck) Dawsey retired.
Dawsey was general manager of Benton REA for 24 years.
Virgil Boyle, Benton REA's board president, said that "...the board unanimously selected Gerkensmeyer following a nationwide search conducted over many months. His leadership skills, educational background and industry experience, along with his personal traits that reflect Benton's culture, make him an outstanding choice for this position."
He continued, "He is a trusted employee and respected leader, and we know that under his direction we will continue our mission of serving our members with reliable energy at the lowest possible cost.
"We have been fortunate to have had strong leadership under Chuck for the past 24 years and look forward to strong leadership with Clint as our new manager."
Gerkensmeyer said, "I am truly honored and humbled to be selected for this position and excited to face the challenging times ahead. To be given this incredible opportunity to build upon the successes achieved by a highly- respected leader like Chuck Dawsey is truly humbling."