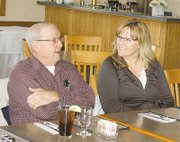 It's been on the drawing board for months, and in just a matter of weeks SVID's field office at 1105 E. Yakima Valley Highway in Sunnyside will see work begin to upgrade the facility.
That was the announcement yesterday, Tuesday, during SVID's monthly board meeting.
SVID purchased the former home of Bieber Brothers flooring store more than two years ago and has converted it into a field office.
In January of this year SVID received a building permit from Sunnyside city officials to renovate the building so it would be better suited to its needs.
The project is valued at $220,000, according to the permit SVID acquired.
During yesterday's board meeting Ron Cowin, SVID's assistant manager-engineering, said work on the field office will start next month.
He said the project will be divided into five phases, with work on the first four to begin in July. Accordingly, SVID board members yesterday approved a contract not to exceed $5,800 for engineering and design work related to the remodel.
Upgrades to the field office will include roof repairs, a new HVAC system and installing a conference room.
Cowin said the fifth and final phase of the project is constructing a lab at the field office to replace the one currently in the basement of SVID's main office on 11th Street in Sunnyside.
In other action yesterday, SVID's board:
- Agreed to move forward with foreclosures on 116 parcels that are delinquent on payments to SVID.
- Adopted a new water transfer policy. The policy better spells out the processing of water right transfer applications within SVID.
Included in the document is a requirement that irrigation district assessments must be current on all parcels associated with the transfer request.