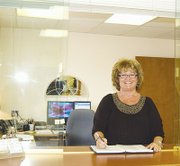 In a move that had been long discussed, the City of Sunnyside has moved the front office of its community development division to a spot off the main lobby, making access to the office easier for the public.
Previously people needed to use a second door, to the left of the main entrance to City Hall, to reach the offices. With the change, the public can access the department through the main lobby instead.
The move had been considered and talked about for years, with arguments against it usually based on the small size of the main lobby, according to Pam Sandifer, administrative assistant.
But the new interim city manager, Frank Sweet, decided to make the change.
"Let's bring everybody together," said Sweet. "Make it one-stop shopping."
In addition to moving the building division's front office, Sweet also moved administration of the code enforcement and building inspection divisions from community development to public works.
"It only makes sense," he said. "Community development is about planning and building while code enforcement and inspection take effect after a place is built."
Sweet hopes the change in offices, which became effective on June 1, will make it easier for people to find the services at city hall that they need.
"We are here to serve the public," he said. "It should not be hard for people to come to city hall with their needs. The more we can relax them, the more it helps, I think."