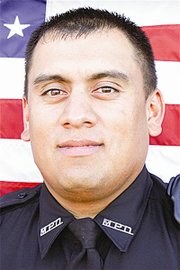 MABTON - The City of Mabton can now proudly announce a third officer to its police force.
As of June 1 Mario Castilleja, a two-year reservist for the city, was hired as a full time employee for the city's police department.
Castilleja, 32, says becoming a police officer has been a lifelong dream of his, and finally being commissioned as a full time officer is the culmination of what he's dreamed of.
"I spoke with the chief on my first day of work, I told him I knew this is what I wanted to do, but I couldn't imagine it (before), and now it's real," he said.
Castilleja began his reservist career in Granger in 2004 and for the past two years he's been working alongside Mabton officers.
The Grandview native says the best thing about working so close to home is he really knows the people.
"It feels good that I can be out in the community on a daily basis," he said. "There are many people in the community that I can say I've worked with hand in hand."
Castilleja still resides in his hometown of Grandview with his wife and three children. He says becoming an officer fulfills his career dreams and this winter the city plans to send him to the Washington State Criminal Justice Training Commission Basic Law Enforcement Academy.
"Then I'll be a fully commissioned police officer in the state of Washington," he said.