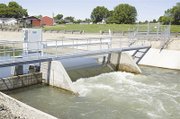 With everybody pulling in the same direction, it's amazing what can be accomplished," said Robert Golob as he stood next to an SVID reservoir.
Golob, Chairman of the Sunnyside Division Board of Control and a director of SVID, was the keynote speaker at Wednesday's celebration of the completion by SVID of Phase I of the Sunnyside Conservation Project.
The project, which took nine years and a lot of cooperation to get this far, will result in less water being diverted into the Sunnyside Canal from the Yakima River and better control of the water in the canal by SVID.
As the celebration continued, most speakers noted the level of cooperation and partnership required to reach this point.
"We know how to fight over water," said Gov. Gregoire in a letter read by Schuyler Hoss. "We also know how to get past the fight. You are showing the rest of the West how to make progress with water, the Washington way."
Gerald Lewis, representing the Yakama Nation Tribal Council, spoke of the history between the Yakama and SVID.
"Getting here wasn't easy," he said. "A decade ago there wasn't trust between us. We both had deeply held values that seldom aligned."
Lewis said agricultural economy created by SVID came at a huge cost to the Yakama nation, who asked for more water flow in the Yakima River from the irrigation district. To everyone's satisfaction, the two groups formed a partnership.
"We locked arms and jumped off the cliff together," Lewis said. "Now it will be easier to grow crops and raise salmon. There is still much to do, but now we have a habit of working together to fix it."
Phase I, called the Sunnyside Canal Improvement Project, added three reservoirs to the canal to act as buffers for the water flow. It also upgraded the 30 checks, or gates, along the 60-mile canal that regulate water levels. By keeping the water at a constant elevation, all customers get their water and with the reservoirs acting as buffers, less water in total is required for the system.
Phase II, already in progress and expected to be finished in 2025, is called the Enclosed Lateral Improvement Project and will improve and cover many of the irrigation ditches in SVID's area, adding flow meters that will allow SVID even finer control of the water flow in the system.
What SVID has accomplished so far was described as "pretty impressive" by Lorri Lee, the Pacific Northwest Regional Director of the Bureau of Reclamation.
"Everyone here has had a hand in developing a model of how to address issues," she said. "You did it."