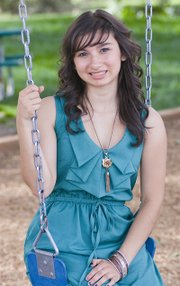 It was in a history class taught by David Downing at Harrison Middle School that inspired 2012-13 Miss Sunnyside Candidate Stefani Anciso and her passion for supporting veterans, as well as preserving history.
In that class she developed a great appreciation for U.S. veterans, which she says will be the focus of her community service project if she is selected to serve as Miss Sunnyside.
"I've met with members of the local VFW and American Legion," said Anciso, who said she would like to help the veterans groups in Sunnyside with fundraisers.
She said there are many community events and fundraisers sponsored by the local veterans. She would like to have the Miss Sunnyside court work side-by-side with those who put together care packages for troops serving overseas. She would also like to help gather donations for those care packages, and have the court volunteer as servers when the organizations host community events.
"My grandfather was a veteran, but I didn't get to know much about his service because I was too young to appreciate it when he died...I was 6-years-old," said Anciso.
Because she missed out on an opportunity to learn about her grandfather's service to his country, Anciso says she believes in taking the opportunity to learn about the courage of men and women who serve in the armed forces through those who are still living.
"I was inspired by the book Lone Survivor," she said, stating she read a book in Downing's class that helped her understand the sacrifices of those who serve during a time of war.
"I believe they deserve to be honored," said Anciso.
"It takes an amazing strength to carry on after having experienced battle."
Anciso also believes community members can show support for the U.S. veterans by helping them with their community service projects.
She believes Sunnyside is a great place to live and most people are supportive of the various community service groups here.
"If someone were to come to Sunnyside that had never been here, I would take them to the Jerry Taylor Memorial Veterans Plaza," said Anciso, stating the veterans plaza is an example of the community coming together to support local veterans.
"The community is taking a large step in displaying its appreciation for our veterans."
Anciso said she would also show visitors the graduation gate at Sunnyside High School, which she believes is a beautiful symbol of the strength of the community's youth.
"For students at SHS it means hopefulness, choices and a gateway to a new beginning," she said.
Anciso said it would also be her honor to give visitors an agricultural tour because the Yakima Valley's farmers have provided a strong foundation for the community.
"I think it is so amazing there is such an abundance of fruits, vegetables and dairy that are grown in this area," she said.
Anciso is the daughter of Elvira and Roy Anciso of Sunnyside.
She plans to attend either the University of Washington or Gonzaga University to pursue a law degree.
"I want to be a prosecuting attorney. I became interested in this field because of books I have read, written by Jodi Picoult," said the Miss Sunnyside hopeful.
"I love a good investigation and debating," said Anciso.
Her sponsors are J&K Dairy, LLC, Wedam Veterinary Services and Fashion Corner.
The Miss Sunnyside Pageant will be staged on Saturday, Sept. 15, at the Sunnyside High School auditorium.