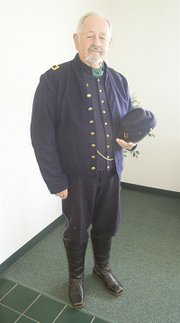 UNION GAP - After more than a decade of effort, Yakima County will again hold a Civil War battle re-enactment.
Set for Saturday, June 16, and Sunday, June 17, the battle will take place at Fullbright Park in Union Gap.
Called the "Battle for Union Gap," the event will not only simulate a Civil War battle from 1862, but also demonstrate cavalry, infantry and artillery tactics, complete with bayonets and cannons.
Period Civil War civilian camps will also show how the people who were left at home managed their lives while loved ones were away fighting.
Larry Graham of Selah is one of the 300 or so members of the Washington Civil War Association, and he said getting a Civil War battle here was something of a, well, battle.
He noted those in western Washington expressed concern about having a re-enactment in our area during the summer because of concerns about heat in the heavy wool Civil War-era costumes.
The hope is that with an early summer date conditions will be cooler for re-enactment soldiers in the Union blue and Confederate gray.
Graham says there's one Civil War battle re-enactment held each month around the Northwest.
The re-enactments they take on have a special meaning as 2011 to 2015 marks the 150th anniversary of Civil War battles.
The "Battle of Union Gap" is open to the public from 9 a.m. to 5 p.m. on Saturday, June 16, and 9 a.m. to 3 p.m. on Sunday, June 17.
A worship service will also be held at the site at 9 a.m. Sunday.
Tours of the civilian camp will be available both days.
The one-time admission fee for both days is $8 for adults, $6 for students, military personnel and seniors. Children ages five and younger will be admitted free of charge, and a family of four or more can purchase admission for a discounted rate of $22.
Parking is free.
Information on the re-enactment or getting involved with the Civil War group is available at www.wcwa.net or by e-mail at brightnot66@yahoo.com.