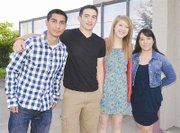 The four applicants for a $1,000 scholarship from the Sunnyside Kiwanis Club on Wednesday morning of this week gave presentations, not knowing the members of the club would ultimately decide to award each of them $400.
The Kiwanians were impressed with the four seniors from Sunnyside High School and believed each of them were deserving of a scholarship after hearing about their community service experiences.
Because the decision would have been difficult, the Kiwanians opted to change the scholarship award.
Giving the first presentation was Eric Espindola, who said his first experience with community service was running concession stands at a SHS sporting event.
"I knew it would involve helping the high school...I didn't realize it was community service," he said, stating he didn't have a lot of friends his freshman year, but the one friend he did have was the impetus to his decision to get involved.
Community service, said Espindola, has taught him that by being involved in the community one can develop a closer relationship with the community members.
"You meet a lot of different people," he said, stating a community service project of another Lower Yakima Valley student helped him meet SHS Assistant Principal Ryan Maxwell.
Maxwell and Espindola were in a half-marathon together. Through the shared experience of running the pair became better acquainted and Maxwell became Espindola's mentor.
When Espindola needed to plan for his senior project he conferred with Maxwell and the pair organized the first-ever Turkey Trot, a 5K race that took place on Thanksgiving Day. The project benefitted Sunnyside food banks.
Espindola and classmate James Salazar, the next SHS senior to speak, plan to attend Western Washington University this coming fall.
Salazar said he didn't get involved in community service until his sophomore year. At that time, he joined the high school's Key Club, which is a Kiwanis Club sanctioned group for high school students.
He found out he enjoyed helping others through the various community service projects organized by the club.
That inspired Salazar to join other clubs at the high school that focused on community service.
"I love helping out...it gives you a feeling of accomplishment," he said.
Cassandra Mehrer agreed, stating she experienced the satisfaction that comes from helping others for the first time her freshman year on a mission trip to Thailand. While there, she was part of a group that helped build a church.
"It was humbling to see those who are less fortunate," said Mehrer.
She said the trip inspired her and "...jump started me to become more involved."
Mehrer said she has been a member of Sunnyside High School's leadership class through which she has had the opportunity to become involved in a variety of different community service projects.
She said her experiences have impacted her greatly and she plans to attend Yakima Valley Community College before embarking on another adventure to Thailand. She has a desire to live in that country, helping the residents there.
Alejandra Calderon's career pursuit has also been inspired by community service efforts she has been involved in.
She said working with the Go Active program as a member of the 2010-11 Miss Sunnyside court inspired her to change her career choice from becoming a doctor to a career as a registered dietician.
Calderon said learning the importance of promoting a healthy lifestyle has also inspired her to continue teaching proper nutrition and exercise to those whom she comes in contact with at the Washington State Migrant Council, where she volunteers.
"To become a registered dietician, however, will take five to six years of college," she laughed, stating her career pursuit will take a lot of dedication.
Calderon plans to pursue a Bachelor's degree at Washington State University with hopes of continuing that education at the University of Washington.