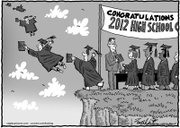 Families throughout the country are celebrating graduations.
However, it can be a bittersweet occasion for most because mothers and fathers know high school graduation marks that time in each of their children's lives when those babies must leave the nest.
It is a time of celebration because friends and family have watched the young graduates grow from little ones to young adults. The graduates have endured 13 years of hard work in school, many have accomplished great things in their young lives and are moving on to college.
I think of some of the faces that will be among tonight's Sunnyside High School graduates and I see athletes, scholars and great citizens. I have watched them grow up from afar and believe the parents and adults who have mentored the youngsters did a great job.
It is an exciting moment and a great achievement for these graduates to receive their high school diplomas.
However, as someone who feels vested in some of their lives, I feel an inkling of what their parents must feel...they grew up too fast and I am not ready to see them leave SHS yet.
Life does that to us, however. It moves on and we all get a little older. We watch the young people in our lives grow up and realize they won't be babies forever.
My sincere hope for this year's graduating class is that each and every one of them continues to shoot for the stars. I have seen many overcome obstacles on the path of life. I believe they all have the potential to become extraordinary adults.
Never give up on your dreams, class of 2012. You are a wonderful group of people and have much to contribute to this great big world of ours.