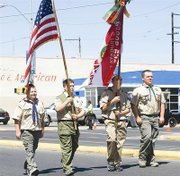 The Sunnyside Lions Club is planning its annual Fourth of July celebration for 2012, which will feature a parade, a hot dog eating contest, a pie eating contest, a watermelon eating contest and a talent show along with special guest speakers, a carnival, many vendors and an evening fireworks display.
The parade will start at 11 a.m. from Warehouse Avenue to Sixth Street, turning onto Edison Avenue at Centennial Square and ending at Sunnyside High School.
At noon the gates to the SHS football field will be opened to the public. Admission to the field will be free but donations will be accepted by the Sunnyside Lions Club. Wristbands and tickets to the carnival will be available for purchase at the event.
At 2 p.m. the eating contests will start with hot dogs, followed by pies at 3 p.m. and watermelons at 4 p.m.
The talent show will start at 5:30 p.m. and at 8 p.m. the evening events honoring local veterans will start with a guest speaker. At 8:30 p.m. the colors will be presented by the VFW along with a 21-gun salute, followed by another speaker.
Fireworks will begin at dusk.
Applications are now being accepted for the parade, eating contests and talent show. Application forms are available through e-mail by request to SunnysideLions@yahoo.com, on the web at http://DailySunNews.com and through Dr. Combs ENT Office located at 2925 Allen Rd or the Sunnyside Chamber of Commerce.
The talent show will be limited to the first 30 applicants and the deadline to apply is Friday, June 29. The entry fee for the talent show is $10.
Parade applications are due Saturday, June 30. There is no fee for entry.
Registration for the eating contests will be open until a half hour before the event starts. The entry fee is $2 each or $5 to enter all three events.
For more information contact Sunnyside Lion and Fourth of July Committee Chair Barbara Bloomfield-Lange at 509-366-1184 or Co-Chair Trish Combs at 509-837-1570.