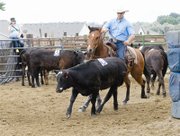 Organizers have set the dates for the second annual "Sort 4 the Cause" event at Sunnyside's Specks Arena for June 30 and July 1.
The event is a fundraiser that benefits organizations working with those who suffer from cancer and other life-threatening diseases.
Last year's recipients received more than $15,000.
The 2012 event begins at 9 a.m. both days.
Teams of riders will participate in the first run of every class on Saturday, sorting cattle at breakneck speeds as the numbers are called out. The celebrity class will participate in both of its runs on that same day.
The different classes include open, pro am, am, am novice, novice, green novice and celebrity. Buckles will be awarded to the winning team in each class with the exception of the celebrity class.
A Calcutta auction will start at 5 p.m. on Saturday. The cost to participate per rider is $30 and there is a four-rider limit for each class. One rider must be changed for each entry.
A silent auction will be held throughout the day and will close between 6 and 8 p.m.
Dinner will also be available between 6 and 8 p.m. Dinner must be pre-ordered.
To register for Sort 4 the Cause email sort4thecause@gmail.com or call Pam Bright at 509-945-7430, Shellie Speck at 830-0505 or Sue Branch at 360-220-2522.
The event is open to the public and a variety of vendors will be present with items for purchase to benefit the cause.
All proceeds from the benefit sorting event will be donated to Children's Wishes & Dreams, Wellness House and Tri-Cities Cancer Center.
Specks Arena is located at the end of Sunnyside's South Street.