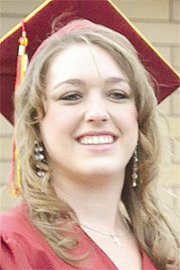 Yakima County Dairy Ambassador Sabrina Mensonides is in the running to represent the state dairy industry as she vies for the title of 2012 Washington State Dairy Ambassador.
June is National Dairy Month and is also the month the Washington dairy industry selects a new ambassador for the state.
The Washington State Dairy Ambassador Program provides professional and educational opportunities for young women in Washington state. The young woman chosen to serve as ambassador receives a college scholarship, internships and extensive communications training.
Mensonides, the daughter of Art and Theresa Mensonides of Mabton, is 18 years old and graduated last week from Sunnyside Christian High School. Mensonides was involved in 4-H and FFA and has been showing dairy cattle for eight years as well as beef cattle for five years. She was also the president of her FFA chapter and of her senior class.
Later this month, 2011 Washington State Dairy Ambassador Shannon Rodeffer and alternate ambassadors Emily Neff and Kristen Wedam will turn over their crowns during a ceremony in Everett.
In addition to Mensonides, five other women are in the running for 2012 Washington State Dairy Ambassador.
Elizabeth Beck will be representing Lewis County. She started showing dairy cattle at a young age and now works at her uncle's dairy as the calf feeder.
Kristin Nelson represents the Inland Northwest. She was instrumental in starting the Dairy Products Judging Career Development Event at her high school.
Jennifer Callanan is the contestant from King-Pierce County. She was instrumental in getting the FFA program started in her high school.
Abby Lohman will represent Skagit County. She is president of the Washington State Jr. Holstein Association and FFA District and Chapter president.
Melissa Reyling of Snohomish County, the final contestant for the 2012-13 state titles, holds the office of president in both 4-H and FFA. She first became involved in the dairy industry by borrowing a project animal from a local farm where she now works and has earned many responsibilities.
This year the 57th annual Washington State Dairy Ambassador Coronation will be held in the Grand Ballroom of the Holiday Inn, 3105 Pine Street, in Everett on Friday, June 22.
For ticket information to the event, contact Gloria Edwards at gloria.wsdw@hotmail.com or phone 360-273-7313.