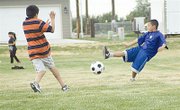 MABTON - After nearly eight years since the vision for Mabton's New Life Homes was birthed, the community was finally able to celebrate its official dedication.
More than 50 Mabton area residents and supporters of the project gathered last Friday to celebrate the culmination of the eight-year project.
"What a great day for Mabton," Sen. Jim Honeyford said as one of last Friday's guest speakers along with many other local and state dignitaries.
More than 2,500 volunteer hours and $4 million in home sales were generated throughout the Catholic Charities Housing Services project's creation of more than 30 new homes in Mabton.
The event, however, was a dual celebration.
Nearly two years ago Mabton's New Life residents got together and asked for a park. Several community members rallied behind the project and Mabton children earned the Yakima Youth Award this past March for their involvement and volunteer work on the project.
"As I look out at the children playing here (in the park), that's beautiful," said Mabton Mayor Angel Reyna. "This represents a lot of hours and commitment; it's a big step in the right direction."
Catholic Charities' Laura Armstrong, the park project manager, said the community really rallied behind the park vision. With several work days planned to complete the laying of the sod and building the tetherball courts, she says there wasn't a shortage of volunteers.
During the dedication ceremony several individuals were recognized for their special commitment to see the project through.
Community member Serapio Herrera was awarded as the project's pioneer volunteer, "he's been here since the beginning," said Armstrong.
"Alberto Vazquez gets the committed volunteer award," she added, noting his excitement and extreme dedication towards the project.
Community member Laura Vazquez was recognized with a volunteer leadership award, citing her excitement and leadership skills on volunteer work days.
A group of Mabton youths also recognized Linn Kraft, the project's construction manager, for his commitment to the project and for "making it fun."
Additional volunteers and contractors were also recognized during the ceremony.
Once the final "thank-you" was said, the fun and games had just begun.
Mariachi Sol De America rolled in, fully dressed in mariachi attire to serenade the community with feelings of celebration. Attendees of the event were also fed a plenty of food, donated by community members and area businesses.
The evening ended with a "ribbon cutting" of sorts.
Volunteers unraveled the celebratory ribbon and stretched it across the newly dedicated soccer field. Mabton youngsters formed an imaginary starting line, and raced to the finish across the ribbon as a non-formal cutting of the ribbon.