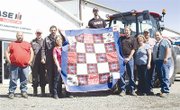 When quilting enthusiast Judy Fletcher visited a quilting expo in Portland, Ore. earlier this year, she came across a pattern she just had to try.
But after thoroughly reading the article in Fons & Porter's Love of Quilting magazine, she decided she could turn her hobby into a skill that makes a difference.
The pattern featured in the magazine was from the group Quilts of Valor. Since 2003, the Quilts of Valor Foundation has become a national grassroots community service effort, connecting the home-front with the nation's wounded combat warriors and veterans and has distributed more than 66,000 quilts.
"The article touched me," she said.
And from then on, she decided she had to become a part of this team.
With a quilting friend of hers, Judy Turner, the two decided to not only contribute to Quilts of Valor, but to register their own club, which now has more than 15 women participating. The group will meet in Portland, Ore. at the Montavilla Sewing Center, who has generously donated a classroom for the club to meet and quilt.
By this coming Thursday, June 14, Flag Day, the club will have completed four quilt tops and one complete quilt. A Quilt of Valor costs about $250 to complete, and the group is doing its best to raise as much money as possible to help bring a little more joy to American servicemen and women.
The team has created a Case IH themed quilt, which they plan to sell raffle tickets for. The quilt is now, until July 4, on display at the Sunnyside Case IH site, located at 181 Factory Road.
Donations of fabric or money to purchase quilting supplies can be sent to the club's meeting site at 8326 S.E. Stark Street, Portland, OR, 97220, or inquires can be made to Drew Fletcher at the Sunnyside Case IH location by calling (509) 837-2580.
For more information about the Quilts of Valor, visit http://qovf.org.