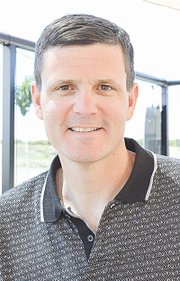 Making his way across South Central Washington yesterday (Monday) was state auditor candidate and current representative for Pierce County voters Troy Kelley.
He is on the campaign trail, seeking the opportunity to converse with voters across the state.
Although yesterday's visit to Sunnyside was an intimate one-on-one with this reporter, Kelley is hoping the voters will check the box next to his name during the November 2012 general election.
He said he is stopping at several rural towns like Sunnyside, hoping to hear from the public regarding what their expectations are from the state auditor's office.
That is why he stopped in Sunnyside. However, no one showed.
"It's okay," Kelley said as he sat for a bite to eat. "I plan to stop here again next fall. I know people can be busy and hope they will be able to meet me then."
When asked why he wants to serve as state auditor rather than state legislator, Kelley said he believes he can make a greater difference in the auditor's office than he can in the legislature.
"I enjoy the work," he said, noting he has been the chair of the joint legislative audit and review committee, providing oversight of budgets and audit hearings. He's also served as vice chair of the House Business and Financial Institutions Committee that regulates financial institutions.
Kelley believes his years of experience with the U.S. Securities Exchange Commission and Department of Justice provide him with a unique perspective.
He is one of three candidates with a Master's in business administration, but the only candidate with a law degree.
"I'm an Army JAG (Judge Advocate General) attorney and taught at the JAG school in Charlottesville in Virginia," said Kelley, who is a lieutenant colonel in the JAG corps.
He has served with the Army for 18 years and recently transferred to the National Guard.
Kelley said experience overseeing the law can be an important component to serving as state auditor because the auditor has multiple responsibilities.
"Most know the auditor's office completes financial audits of cities, counties, schools and ports," he said, stating the state auditor is responsible for overseeing the use of funds by government entities.
"The state auditor also audits federal dollars and conducts regulatory audits," Kelley said.
In addition, the state auditor can review loopholes in the interstate compact laws, laws that regulate the supervision of adult criminal offenders.
Kelley said that is an important issue affecting Washington, especially after Maurice Clemmons shot and killed four police officers in 2009.
"Clemmons didn't even go before a judge and was let out on bail days before the shooting," Kelley said, stating the gunman, a parolee from another state, slipped through the system and is an example of a loophole in the interstate compact laws being used and resulting in dire consequences.
"We import (adult offenders on parole) at a three-to-one ratio (in Washington state)," said Kelley.
He said he is seeking the state auditor's seat as Brian Sonntag chooses not to seek re-election.
"Brian Sonntag has held the seat for 20 years," said Kelley, stating the voters don't often choose someone other than the incumbent candidate for the position.
Kelley believes it is a steady, full-time position for which he is well-suited.
"It's difficult to pass legislation and I believe I can do more good to the residents of the state as state auditor," he said.
As a business owner and conservative Democrat, Kelley said it is important to understand the current economy and to hold government entities responsible for misuse of public funds. He said his goal is to do just that.
"Look at the ferry employees and how they misused funds," he said, noting there was a story in Seattle about ferry employees boosting their pay by driving long distances to and from work. They were paid for travel to the job, rather than on the job travel time and had been doing it for more than three decades. That cost the state millions of dollars.
"It's that irresponsible behavior I believe the auditor's office is responsible for catching," said Kelley.
In parting he said he hopes voters from the Yakima Valley will take the opportunity to meet him next time he is in town.
"I hope they can break away from all they are doing, whether it is harvest or something else, because I think it is important to hear from them," said Kelley.