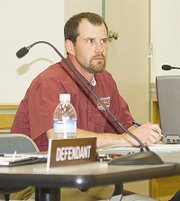 The Sunnyside City Council last night considered a request from city staff to revoke the business license of a Sunnyside merchant due to a reported failure to follow Sunnyside municipal code.
Martinez Motor Sales was accused by the city of painting vehicles in its shop at 521 E. Yakima Valley Highway. City staff argued that according to the law, in order to paint vehicles on the premises the business needs to have a paint booth installed to capture fumes. The business, say local officials, does not have a booth installed.
Evidence against the business was presented by Jamey Ayling, City of Sunnyside planning supervisor.
Some twists in the case became evident immediately, as the name of the owner of the property rented by the business was different on two of the documents presented by Ayling.
In addition, although Ayling indicated three violations in his request, only two actual violations were documented. One of the three alleged violations documented a case in which the business was investigated but found to be following the law.
The owners of the business presented their case to the council, arguing that they had been obeying the law at the times of the violations. Co-owner Nick Martinez said the law allowed painting of up to nine square feet at the time of the first violation, but had been changed since.
Co-owner David Martinez said the second violation he was cited for, which occurred in May of this year, was for work on a private vehicle, which is permitted under the law.
Ayling could not tell the council if the claims of legality by the owners were correct. He admitted ignorance of exceptions in the law regarding painting booths.
The council also asked what actions the city had taken against the business prior to asking for the revocation of the license. Ayling indicated that the city had not taken any previous actions except a warning after the first offense.
As a result, the council voted against revoking the business license of Martinez Motor Sales. However, members of the council sternly warned the company against further painting at that location without a booth, and stated they would vote to revoke if the case came before them again.