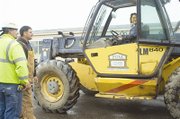 Sunnyside High School welding students are getting a lesson in life all while attending class.
Throughout the SHS renovation process Petra Incorporated, the contractors on the job, sometimes enlist SHS welding instructor Tom Dolan and his students to alter or fabricate parts needed to finish the job.
"Sometimes the door frame size we ordered doesn't quite fit," said Petra foreman Shawn McKay. "So he (Dolan) helps us out."
As a thank-you of sorts, Petra has agreed to loan out tractor equipment for Dolan to teach students safety and operating procedures. In addition, McKay donates his lunch hour to assist students in the learning process.
"It's important for (the students) to know how to operate the machinery, along with their welding skills," Dolan said.
Dolan and McKay have been teaching students safety hand signals when operating the machinery, in addition to how to maneuver the equipment. And Dolan says it is good practice for students wanting to quickly enter the workforce.
"If you know how to operate these tractors, and you know how to weld...you will be very valuable to employers," he added.