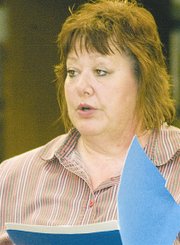 GRANDVIEW - This past school year, Grandview parents have reached a record high number of volunteer hours.
At Monday night's Grandview School Board meeting, parent involvement and volunteer coordinator Debi Foster presented directors with the year-end report.
She says this year Grandview schools have seen 105 new volunteers.
"That's in addition to our already amazing troopers," she said.
In addition, Foster says the school has had a high success rate of registering volunteer coaches this year.
During this past school year, Foster says parents and volunteers have logged 7,289 volunteer hours. That's not including field trips and other occasions that require chaperones, which Foster says cannot be accurately logged.
"We've reached a record number of hours at 7,289," she said. "Last year we logged around 6,000, so it's quite a big improvement."
Foster also noted to school board directors that most of the district's volunteers' service has been in the elementary schools, in classrooms, as reading coaches, helping with fundraisers and as chaperones on field trips.
But the icing on the cake this year, says Foster, was the increase in volunteers at Grandview Middle School. Foster says the increase in volunteer hours at the middle school is largely due to the district's parent involvement piece, encouraging families to get involved with student activities.
"In years past it's been tough to get volunteers at the middle school," she said. "But this year, we've seen a big increase."